A fantastic lifestyle in Ocean District through 4 festive seasons
(Update: 1/3/2023 5:44:29 PM)
Many diverse entertainment activities and events occur 365 days a year in Ocean District. Vinhomes Ocean Park's properties keep increasing their value. 
Enjoy a fantastic lifestyle in "Ocean District" through 4 festive seasons
A fantastic lifestyle, abundant onsite amenities, and a sense of local community make Vinhomes Ocean Park ideal for investors/buyers, or renters. Many diverse entertainment activities and events occur 365 days a year in "Ocean District". Vinhomes Ocean Park's properties keep increasing their value.
Exciting festivals throughout four seasons - Turn out in Vinhomes Ocean Park
Vinhomes Ocean Park is popular with a vibrant "festival city" in the East of Hanoi. Some festivals here are Spring by the Sea, Summer Dream to Happy Ocean Festival, or Journey to discover "Vietnamese Village". The festive seasons in Vinhomes Ocean Park provide the best arts gigs, performances, and many exciting activities for residents and visitors to enjoy the best experience in life.
The festive atmosphere in "Ocean District" becomes increasingly bustling and vibrant with events to welcome Christmas and New Year or before the World Cup football festival. The fantastic events here help residents experience the endless festivals you can not see in other urban areas.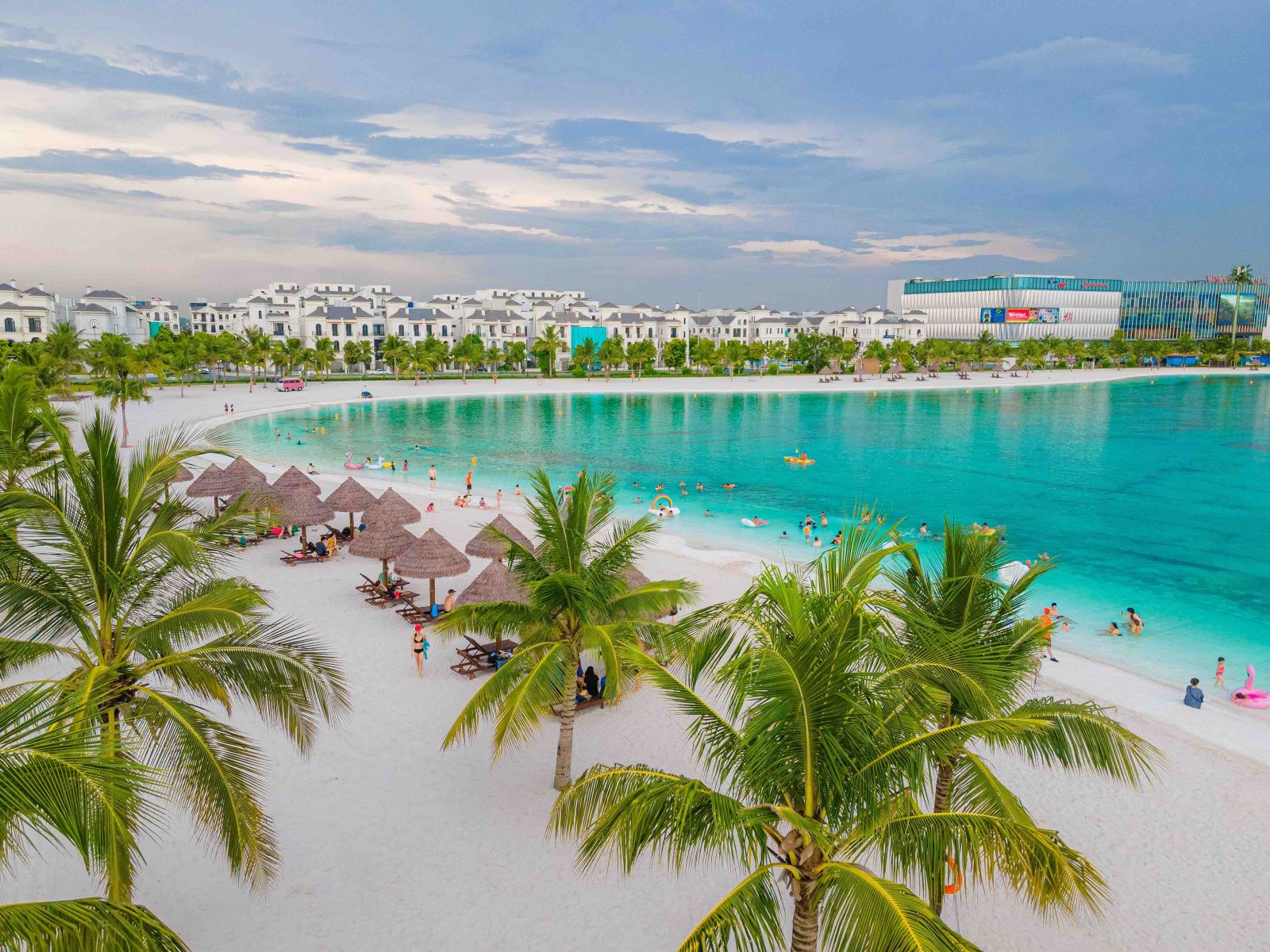 A artificial ocean in Vinhomes Ocean Park
The notable event in Vinhomes Ocean Park is Lagoon Festival Football, held at Crystal Lagoon saltwater lake at 8 pm daily from 3/12 to 18/12. With a giant 600-inch LED screen, World Cup fans could indulge their passion with lively matches near the ocean. Not only being drawn into the football vibes, but fans also immerse in the special cuisine, hot DJs, and dancers' performances simultaneously.
Additionally, there is a camping service and a beach café, opening from 9 am to 11 pm in Sao Bien 18 - Ho Ngoc Trai subdivision daily. Some fun activities include playing team building, making campfires, listening to weekend music, or celebrating BBQ parties.
Vinhomes Ocean Park Pedestrian Street serves all your needs, such as shopping, dining, or entertainment. This place has various stalls for food, fashion, accessories, souvenirs, etc. Especially, Vinhomes Ocean Park Pedestrian Street has just separated into two zones. The first zone is next to Vincom Mega Mall, and the rest of the pedestrian streets are in the Hai Au subdivision.
Notably, the mini music show "Dear Ocean - Love Letter sent to the Ocean" was held weekly in the romantic lake space. Each show is a fascinating musical story told by famous artists such as Hoang Dung, Nguyen Ha, Thinh Suy, Ha Nhi, Dat G, and soon singer Tran Thu Ha, promising to bring melodic love songs to the audiences.
Vietnam's properties values ​​increase every day
Not only drawing from new and unique entertainment festivals since officially put into operation, Vinhomes Ocean Park also has conquered residents with the experience of living in a beach resort in the heart of the city, attracting tens of thousands of people.
Vingroup developer invests in 117ha for greenery, with the "All-in-one" ecosystem from the reputable brands of Vietnam. Vinhomes Ocean Park meets all the needs of residents in just a few steps. The most prominent is Crystal Lagoon, a saltwater lake with a land of 6.1ha and 24.5ha for Pearl Lake.
This is a place where outdoor activities take place regularly so that residents can relax and breathe fresh air to make their spirits more excited and refreshed.
In the future, when the neighboring transport infrastructure is completed, the remaining "pieces" of the 1,200-hectare marine urban super-population will come into official operation, the existing residents will be more crowded, and the number of tourists will flock. More, the value of the real estate in "Ocean District" will increase even more.
Sometimes in life, "going with your gut" can help you make the right decision, but with investing in property, you should take the emotion out of buying and use research instead. And the sound investment for you is that invest in Vinhomes Ocean Park, affirming the increase in value-add opportunities.
See more: Apartments for sale in Vinhomes Ocean Park
Apartments for rent in Vinhomes Ocean Park
News