Selling Vinhomes Riverside villa - a private space for blue lovers
(Update: 5/10/2022 10:03:10 AM)
Vinhomes Riverside villa is currently open for sale, is the hottest place to live that is being sought after by customers and investors. Prices and policies are extremely attractive.
If you are looking for a peaceful place to live away from the hustle and bustle of the city for your family, the garden house at Vinhomes Riverside - The Harmony will be a perfect choice for you!
Where is Vinhomes Riverside - Vinhomes The Harmony located?

Vinhomes Riverside is located at a rare location in Phuc Loi Ward, Phuc Dong, Viet Hung - Long Bien. Transport and infrastructure develop sustainably according to the trend of modernization and technology. The project is reasonably distributed into 5 sub-zones: Bang Lang, Hoa Phuong, Hoa Lan, Hoa Sua and Hoa Anh Dao.
Private space for those who love natural green
Prestigious owners when buying villas at Vinhomes Riverside will enjoy the birdsong every morning, live in harmony with plants thanks to the preferential nature. The spacious front and back yard is up to 40m2, homeowners can freely create their own green sky. To make your garden more poetic and unique, decorate the green spaces to affirm your own sophisticated aesthetic.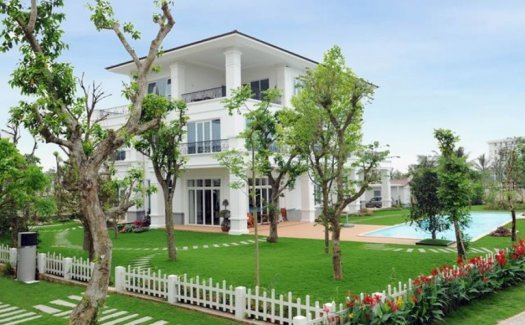 Take some time to take care of a green garden with a sophisticated, unique exterior. To have their own true green-filled gardens. Create winding, small, winding paths, feeling like you are being led to interesting "meeting points". A beautiful villa is indispensable without plants, it gives me interesting emotions. The plants and flowers planted around the lake will make your garden full of green. You can arrange a set of wooden tables and chairs, where you can relax and watch what you have created.
Wide, unlimited view of modern Club houses. Fully enjoy the high-class utility ecosystem of the entire urban area. 15% of houses are handed over fully furnished and can be used immediately.
Vinhomes Riverside is the ultimate masterpiece combination, close to the center of Hanoi city. High-quality synchronization gives customers a high-class living space, the price is suitable for each customer segment.
News