VILLAS FOR SALE IN VINHOMES RIVERSIDE |UPDATED LATEST IN 2023
Vinhomes Riverside is a high-ranking ecological riverside urban area in Hanoi following romantic architecture designs of Italy which is called as Venice city in the heart of Hanoi. The project is built according to international standard. Beside its romantic beauty, Vinhomes Riverside urban area also bring peaceful living spaces in harmony with nature. Villas for sale in Vinhomes Riverside are opening with the reasonable prices that would make customers satisfied.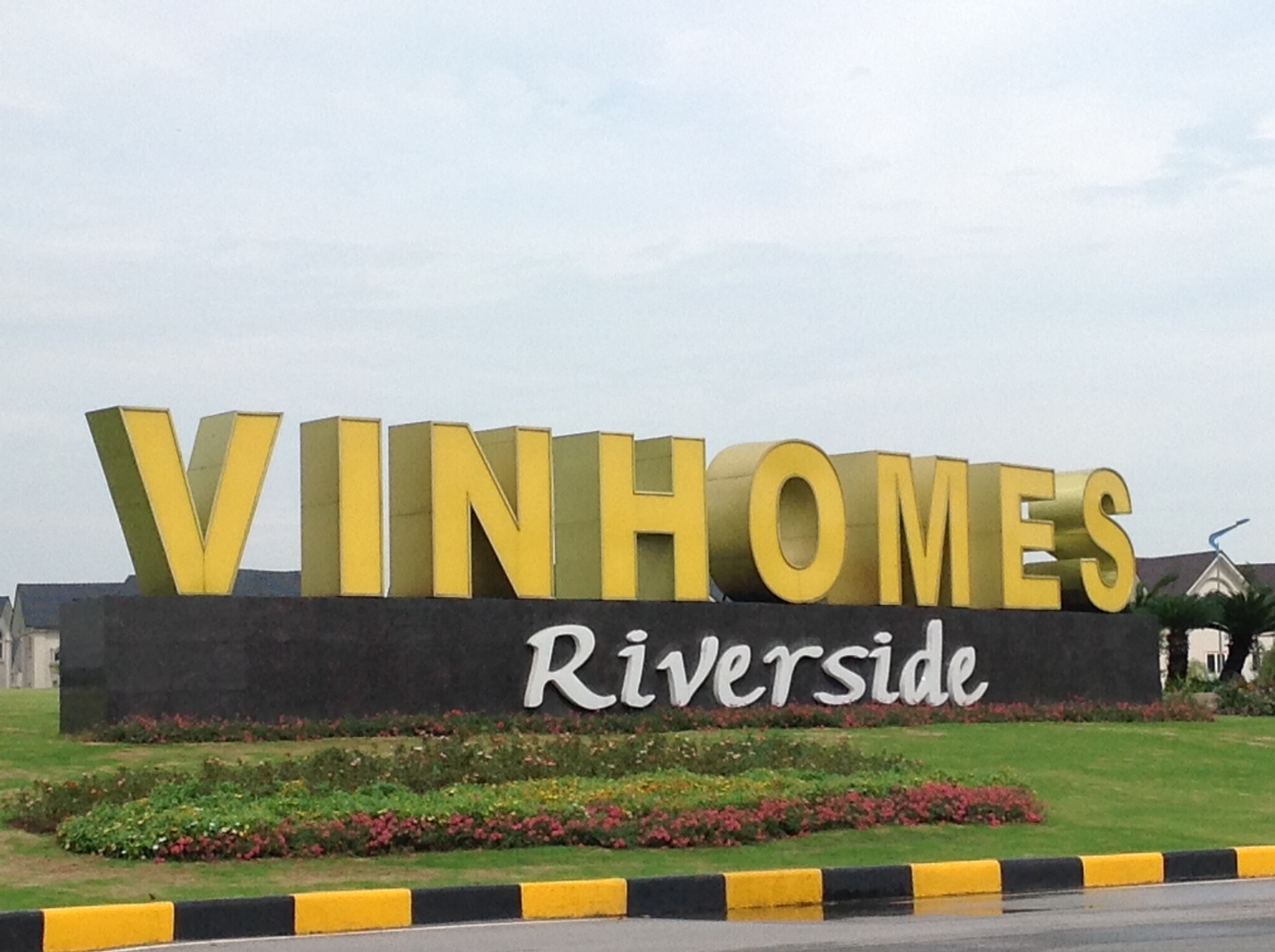 Vinhomes Riverside Long Bien
OVERVIEW OF VINHOMES RIVERSIDE URBAN AREA
Name: Vinhomes Riverside

Investor: Saidong Urban Development and Investment JSC, an affiliate of Vingroup – leading investor in Vietnam

Location: Phuc Loi ward, Phuc Dong, Viet Hung, Long Bien district, Hanoi

Scale: Vinhomes Riverside has total area of 183.5ha, is a villa ensemble of the urban area

Ownership: Forever for Vietnamese

Financial support: Vietnam Technological and Commercial Joint Stock Bank – Techcombank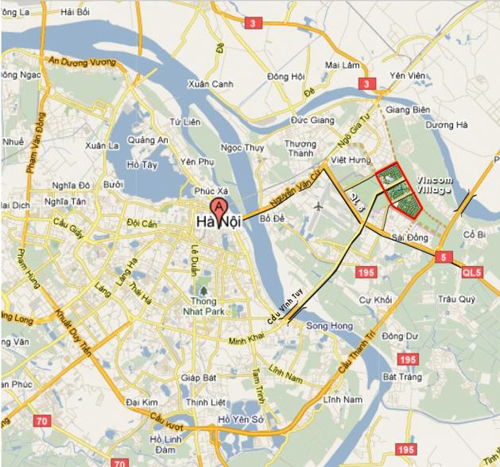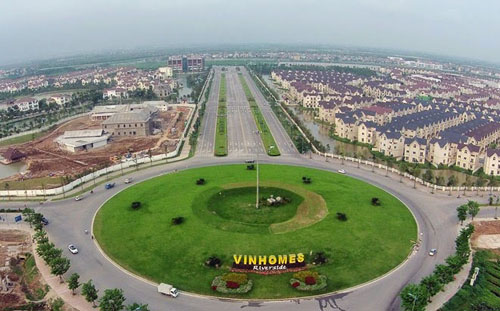 Information about houses and villas for sale in Vinhomes Riverside
HOA ANH DAO (SAKURA) VILLAS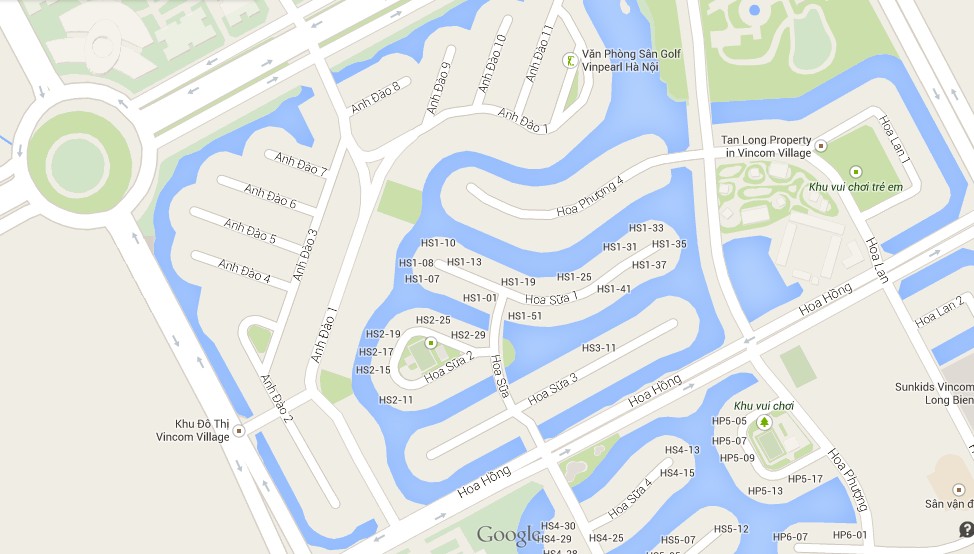 - Vinhome Riverside Hoa Anh Dao Villa Zone is located in 81m road opposite to Vinhomes Riverside Bang Lang villas
- This area includes 366 luxury villas which are divided into 8 main zones. It has large main road, 3 frontages with small sized villas which are appropriate with customers' finance. Sakura villas also has advantageous location, near shopping mall, food courts, international school BIS, entertainment areas…
- Vinhomes Riverside Hoa Anh Dao villa zone has 65% of opulent villas with small areas ranging from 145sqm to 160sqm, beautiful and charming designs, floor area from 85m2 to 90m2 in 150m2 villas. Playgrounds for children are designed with 4 entertaining areas bringing friendly feelings.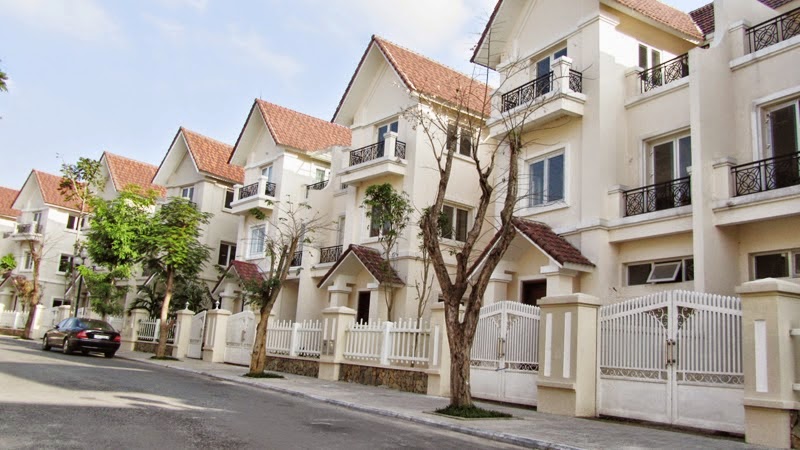 HOA PHUONG (FLAMBOYANT) VILLAS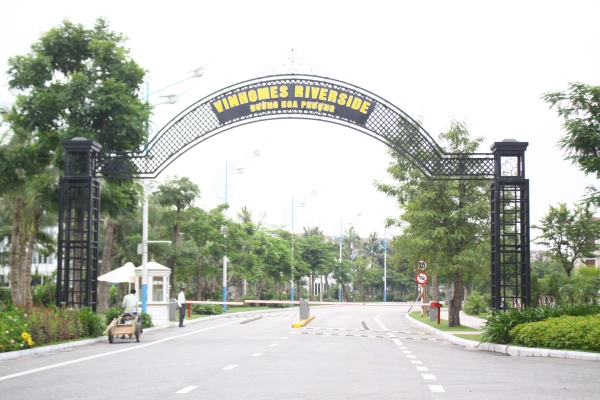 - Vinhomes Riverside Hoa Phuong Villas 1,2,3 (HP 1-2-3) mainly consist of detached villas with area of 300sqm, and the remaining villas with 350m2 to 450m2 in sizes. Especially, there are spacious villas with area up to 600sqm. Positioning opposite to Bang Lang villas crossing main road, Hoa Phuong Villas is on the back of Shopping mall, kindergarten Mapbe from Canada which is convenient location for shopping. There are 61 villas in HP 1, 22 villas in HP 2 and 51 villas in HP 3.
- Vinhomes Riverside Hoa Phuong Villas 4 is positioned along with main roads, adjacent to BBQ garden. This is the most favorite villas since they are best selling villas from the first open days. HP 4 contains 43 gorgeous villas symmetrically designed with detached villas in 424m2 on one side and semi-detached villas in 217m2 on the other side. Most of owners of Hoa Phuong villas moved in and the population density has been increased everyday.
- HP 5 has airy children's playground and prime location, next to international school BVIS, near Rose road, golf court. It is designed like a tear-drop encircling the canal. Hoa Phuong Villas 5 includes 2 detached villas in 320m2 and 17 semi-detached villas in 300sqm. The villas here are favorable by lots of families due to their excellent amenities.
- Next to HP 5 is HP 6, nearby BVIS. It has 30 splendid villas with unique designs distinguishing form the other villas. HP 6, from lot 1 to lot 14, mostly include detached villas in 300m2 area. From lot 15 to lot 30, there are semi-detached villas in 225m2 area which are staggered.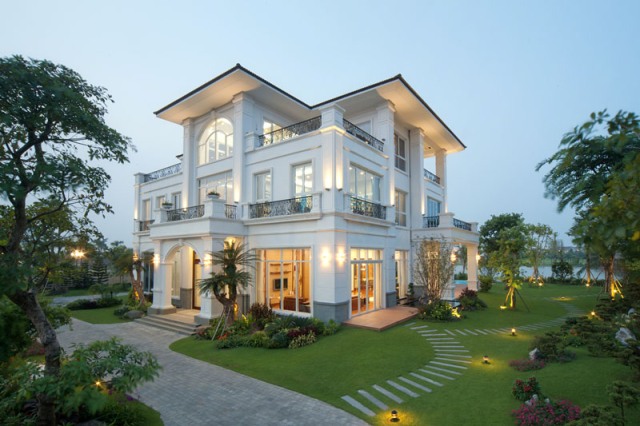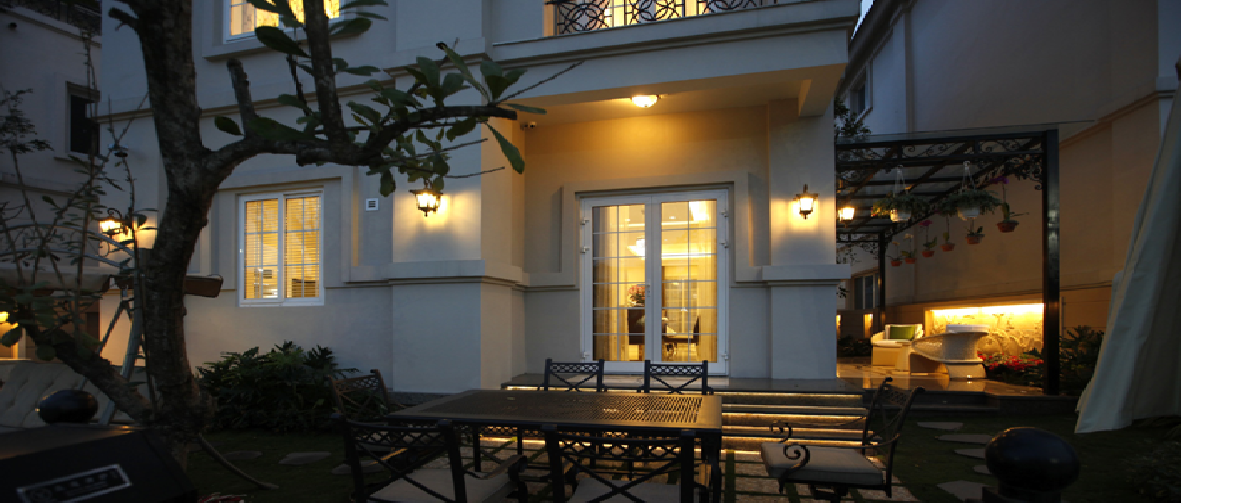 BANG LANG (QUEN'S CRAPE-MYRTLE) VILLAS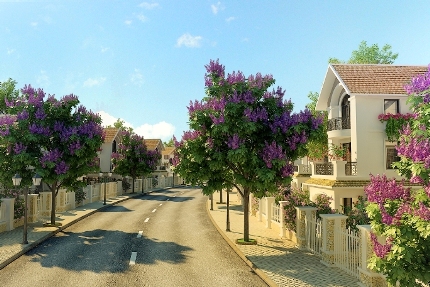 - Vinhomes Riverside Bang Lang Villa Zone is the most secured area, containing lots of lush green trees, spacious lake. It is constructed under 20ha in size, in which lake covers 60%, and 90 luxurious villas are divided into BL1 to BL12, varied areas from 250m2 to 900m2.
- Each area has 24/24h security, if having any problem, the security will be present at your home to assist you in less than 2 minutes.
- Bang Lang Villa Zone is like a Queen's Crape-myrtle blooming in the most beautiful period with all lots representing for stamen. The lake surrounded by many green trees is in the center of Bang Lang Villa Zone. Especially, the investor dropped into the lake 50 tons of fishes for entertaining activities of all residents like fishing or parties.
- BL1 to BL6 has areas of 250m2 to 600m2. BL 2 contains 8 detached villas. BL 3 includes 13 high-end villas with 4 semi-detached villas in 250m2 area and 9 detached villas in 350-400-500m2 areas. BL 5 has 16 luxurious villas including 10 semi-detached villas in 250m2 area mostly full of households and 6 detached villas in 350-450m2.
HOA SUA (MILK-WHITE FLOWER) VILLAS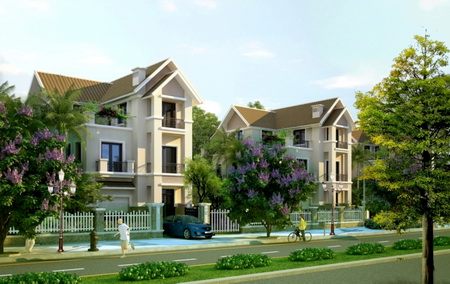 - Vinhomes Riverside Hoa Sua Villa Zone has large population since the first day it opens. From main road 81m, you can make a right turn to cross Rose Road about 45m to approach HS 1-2-3. 80% villas in Hoa Sua Villa Zone are semi-detached with areas of 200 -250m2, the remaining areas are detached villas with areas of 280-350m2.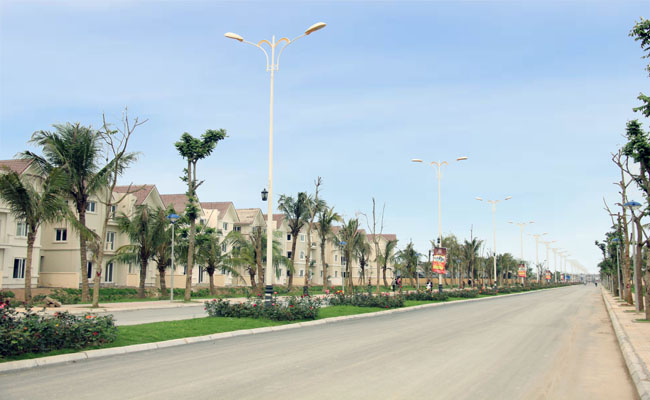 - Villas in HS1 are designed in serpentine shape along the river. HS1 includes 53 opulent villas with 14 detached villas in 290-350m2 sizes and 39 semi-detached villas in 200-250m2 sizes. The percentage of households is 45%.
- HS2 is like a water-drop when looking down from on high. There are the lake and children's playground in front which make villas airy on both sides. HS2 has 30 splendid villas including 2 detached villas in 300m2 area and 28 semi-detached villas in 210.8m2. At the moment, the percentage of households in HS2 is 80%.
- HS3 is located parallel to Rose Road containing 62 luxurious villas with 48 semi-detached villas and 14 detached villas. In the year of 2013, HS3 has lots of households which is continuously complete its interior and architecture. All villas in HS3 are beautiful and charming which are appropriate for customers with finance capacity around 14-16 million VND.
- On the right side of Rose road, opposite to HS 1-2-3 is HS 4-5-6 with unique and impressive design. HS4 has least villas including 30 splendid villas with 14 detached villas and 16 semi-detached villas. From Hs4-01 to HS4-13, there is amazing river and garden view. HS4 is highly valued by customers.
- HS5 is designed with bow-shaped range embracing the whole canal. HS5 has 74 luxurious villas including 14 detached villas in 290-500m2 areas and 60 semi-detached villas in 250m2 areas. There are many households living in HS5.
- HS6 is designed like HS4 with 38 splendid villas containing 12 detached villas in 280-350m2 areas and 26 semi-detached villas in 250m2 area.
- HS7 consists of 30 luxurious villas, nearby golf court, food courts, restaurants, children's playground.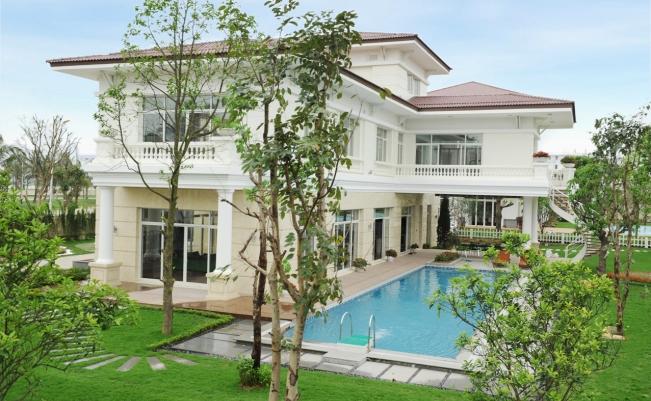 HOA LAN (ORCHID) VILLAS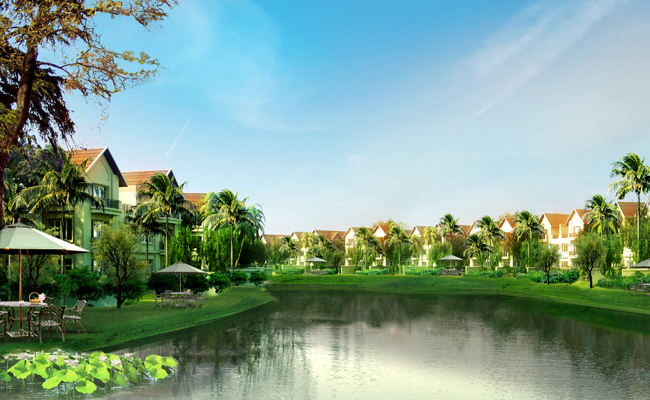 - Vinhomes Riverside Hoa Lan Villa Zone is built along with Hoa Lan road. HL1 has 36 luxurious villas, adjacent to BBQ garden, tennis court, Vincom Center. Turning left from the security gate is HL1 which is mainly consisted of semi-detached villas in areas of 250m2. There are Japanese food court Kimono Village and kindergaten in front, and seasonal garden and spacious lake in the back from HL1-HL18 creating airy and fresh atmosphere. It is convenient to travel to other amenities from the front side.
- Stretching to HL1 is HL2 and HL3 with international school in the front. HL2 and HL3 possesses medium-sized villas from 225m2. The different point of HL2 and HL3 is long distance among villas creating tranquil and quiet atmosphere. This is an ideal place for households who love living in separated areas.
- Next to HL2 and HL3 are HL4-5-6-7-8 with same size of 225m2. These areas bring tranquil environment for households who fall in love with quiet spaces to enjoy natural wind and scent of orchid flowers in blooming season.
Below is price list of orchid villas for sale in Vinhomes Riverside:
Villas

Land Area

Constructed area (m2)

Door Direction/Lake Direction

Prices in contract

(mil/m2)

Constrution price (mil/m2)

Price paid

Highlighted in location

HL1

250

423.9

Southwest- Northeast

74.50

5

100%

Tranquil

HL1

250

423.9

Southwest- Northeast

74.50

5

100%

Tranquil

HL1

275

469.5

Northwest- Southeast

74.50

5

100%

Tranquil

HL1

250

423.9

Southeast – Northwest

70.960

5

100%

Tranquil

LIST OF HOA LAN VILLA ZONE (HL2, HL3,HL4,HL5,HL6)

HL2

225

387.4

Northwest- Southeast

70.640

5

100%

Tranquil

HL5

225

387.4

Southeast – Northwest

75.645

5

100%

Tranquil

HL6

225

387.4

Southeast – Northwest

75.645

5

100%

Tranquil
At the moment, there are wide range of house for sale in Vinhomes Riverside with outstanding designs and best services which can respond to the most demanding customers. The price of selling Vinhomes Riverside villas cost from 53 mil VND/m2 to 85 mil VND/m2 depending on size and position.
Contact us (Tan Long Land) through this number to get the information as soon as possible: 0986 720 720
List of properties for sale