APARTMENTS FOR RENT IN S101-S107 BUILDINGS, SAPPHIRE 1 SUBDIVION
In the context that the urban land fund is increasingly scarce and the demand for housing is increasing, apartment rental is considered one of the perfect options for a large number of customers. Possessing a prime location, planned in a large urban area, the apartment in S101-S107 buildings, Sapphire 1 subdivision, Vinhomes Ocean Park project is considered to be the perfect residence for many residents of the capital.
LOCATION OF VINHOMES OCEAN PARK PROJECT
Vinhomes Ocean Park urban area project is planned in the center of Gia Lam district, which is considered as the golden location of the district with perfect advantages in moving and developing residents. From the urban area, it only takes about 5 minutes for residents to move to Chuong Duong bridge, Thanh Tri bridge and Vinh Tuy bridge, convenient to connect with Hoan Kiem Lake, Old Quarter, busy commercial center as well as bustling areas in the center of Hanoi city.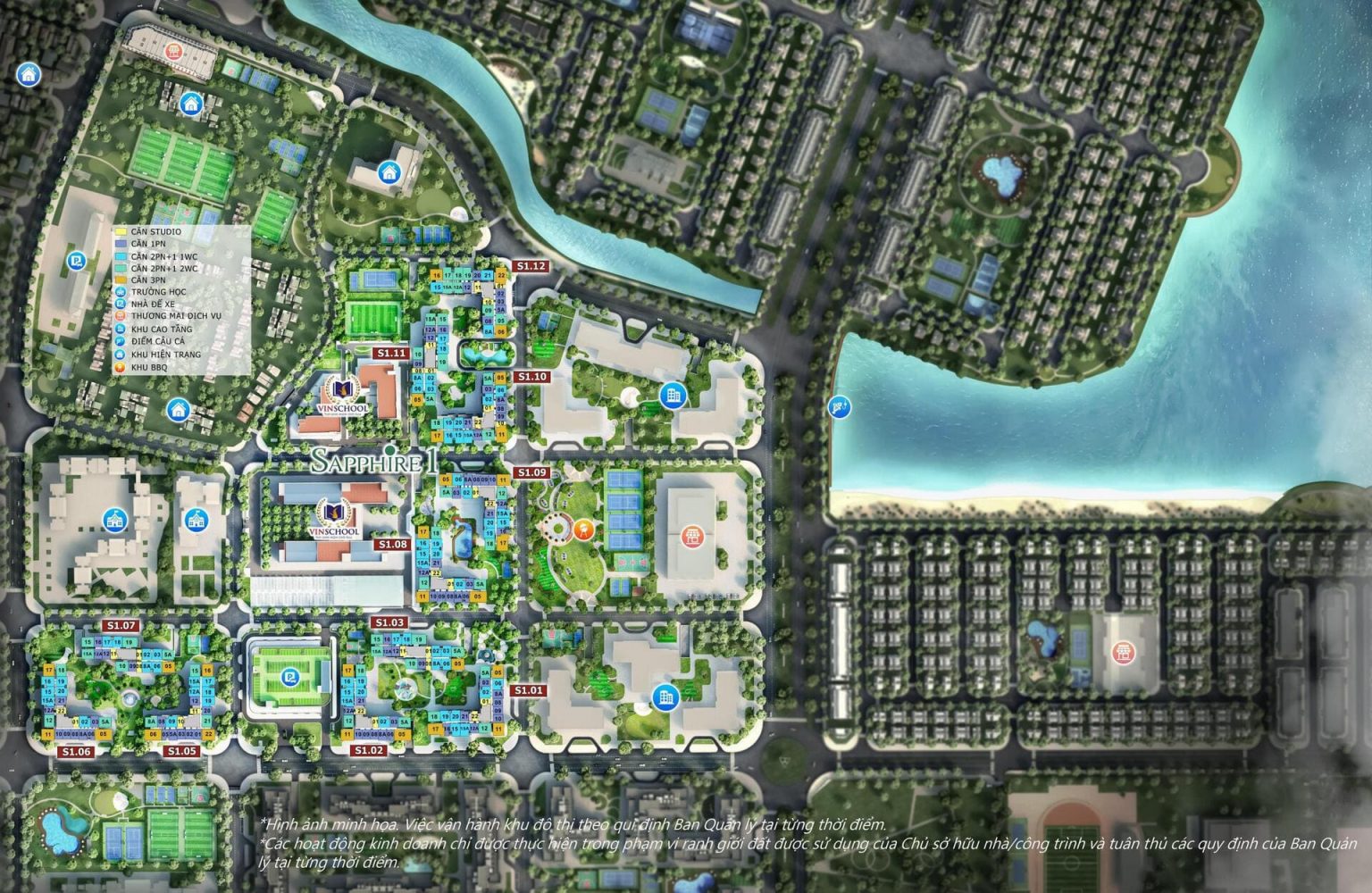 Convenient location is one of the strong points that attracts a large number of customers. With Vinhomes Ocean Park, not too far from the city center location, while ensuring quiet space, fresh and cool air, creating a comfortable and modern living space to fully meet the needs of residents.
FLOOR PLAN OF APARTMENT IN SAPPHIRE VINHOMES OCEAN PARK
Sapphire subdivision in Vinhomes Ocean Park was officially launched to customers with a large number of typical apartment buildings such as: S101, S102, S103, S105, S106, S107.
In particular, Sapphire subdivision apartments are planned into the following types:
Studio apartment: This type of apartment is suitable for young singles, young couples' families with an area of ​​33-40 sqm, reasonable price.
1-bedroom apartment: Design area of 46m2 - 52m2, design with 1 large bedroom and 1 multi-purpose room. With a moderate design, beside 1 bedroom, 1 room is especially suitable for office, reading room or used as a storage room.
2-bedroom apartment: Possessing a modern design, area from 55-70m2, 2 bedrooms + 1 bathroom apartment is designed with 2 bedrooms, 1 bathroom.
Inspired by modern architecture with Singaporean style, the 2 bedrooms + 1 bathroom apartment is optimally designed with a convenient balcony, a multi-purpose space between the 2 bedrooms that can be used to add a study desk, a reading area of the family.
3-bedroom apartment: Possessing a large area from 75-80m2, the 3-bedroom apartment is designed with 2 extremely open sides, suitable for families with many members, multiple generations or families with young children who need a large living space. The 3-bedroom apartment is also highly appreciated for living or investment.
3 - bedroom apartment (Area from 75 - 80 sqm)
WHY SHOULD WE CHOOSE VINHOMES OCEAN PARK APARTMENT?
The apartment system at Vinhomes Ocean Park is intelligently designed from 1-3 bedrooms, some apartments have more space that can be added with single beds or designed as offices, classrooms, warehouses, etc. suitable for a wide range of customers. In particular, the Vinhomes Ocean Park apartment is fully furnished with ceramic tile floors, plaster ceilings, comprehensive painted ceiling walls, 2-way air conditioners, lights, sofas, ...
In the context that the land fund in the inner city is increasingly scarce, many residents choose apartments as their nest. Possessing outstanding living values, Vinhomes Ocean Park promises to bring customers extremely interesting experiences. Living at Vinhomes Ocean Park, residents can enjoy a perfect living space with a system of high-class utilities and services, including:
Modern gym park, 4-season swimming pool, jogging track, …

Children's play area

The water surface area is up to 55ha, the area of trees and parks is up to 60ha.

Possessing a perfect utility system, class service, modern design, Vinhomes Ocean Park apartment promises to be the leading product, bringing an ideal apartment choice for the capital's resident community.
See more: Apartment for rent in S108-S112 Vinhomes Ocean Park