Vinhomes Times City
(Update: 8/17/2015 10:42:47 AM)
Vinhomes Times City
DETAILED INTRODUCTION OF TIMES CITY HANOI
Was constructed basing on the idea about a modern urban with eco-friendly architecture of The Island Country-Singapore, Times City is the combination of luxury and high-class living space with full of utilities where you and your family can enjoy a comfortable and perfect life.
Especially, Times City has been invested by Vingroup to develop health and high quality education system, for the purpose of completion, self-contained utilities system of projects bringing residents a real perfect living space. Accordingly, Vinschool system (from preschool to highschool level) with educational philosophy for students' comprehensive development from the early years of life, refinement and skillfull combination of domestic and international education quitessence, offers an excellent education pattern where students are equiped necessary elements to become "global citizens" yet still remain Vietnamese identity and soul.
With harmonious combination and unique interference between modern European architectural style and original Asian architectural style, Times City is promising to become a model Urban Area and an important factor awaking the potentiality, contributing to change the countenance of South capital's region and bringing to your family a modern, youthful and perfect living space.
LOCATION
Situated at Hanoi Southeast maingateway, far away Sword Lake less than 4km from southward, nearby Vinh Tuy Bridge and Times City connects West gateway to city centre ( So Crossroad – Nga Tu So) by modern overhead highway.

The emergence of Times City with a series of utility and modern project like a new spirit awaking the potentiality of South region as well as creating a new face for the land of thousand year of spiritual masterpiece.
"Eco City" – another name of this project, is planned on the area of 37 hectares located on Minh Khai street (capital centre). The introduction of Eco City provides Hanoi citizens a living environment with lots of green trees, fresh air and brimfullakes.
The total area of 364.500 sqm with many functional subdivisions : Luxurious apartment system, hi-class commercial centre, giant recreational zone, diversed and varied cuisine zone, the first Aquarium of Vietnam, indoor ice-skating rink, 5-stars international class general hospital-hotel, international standard highschool and preschool, chains of green parks and lake (100.000 sqm), modern overhead nourishing garden…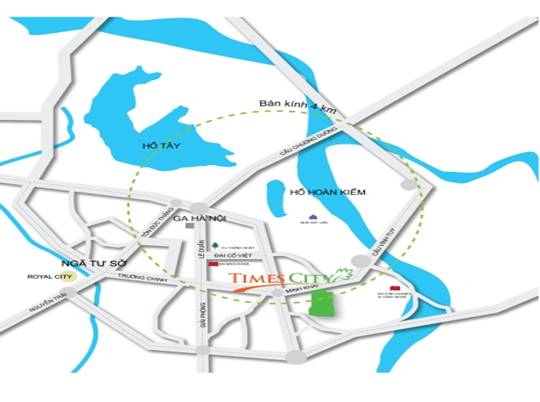 IDEA
The designed ideal about modern ecological partten architecture has been successfully adapted in many developed countries, Times City brings to the city dwellers a youthful, modern, peaceful and fresh living space.
The introduction of Times City will provide city dwellers with a living environment (a lot of green trees, fresh air and the fresh of full lake).



GROUND PROJECT

The designs of the Times City have strictly followed the strict rules of Oriental Feng Shui rules plus modernity of Western architecture, creating an imprinted era architectural masterpiece.



PROJECT SCALE:

TIMES CITY APARTMENTS has been designed by 18 continuous blocks as 26 storey-building T1, 30 storey-building T2, 31 storey-building T3, 26 storey-building T4, 27 storey-building T5, 27 storey-building T6, 27 storey-building T7, 32 storey-building T8 and T9, 24 storey-building T10, 35 storey-building T18,….2 basements for supermartket and 2 basements for car and motorbike parking lot. Constructed on 364.500 sqm of land area, Times City will offer more than 900 units/ building and more than 200.000 sqm of floor service, 4000 sqm of Aquarium area, 2000 sqm of Vinpearl Game Area, cinema system.
+ The total area of B1, B2 basement is served as supermartket and commercial services; 400.000 sqm of B3, B4 basement for car and motorbike parking lot.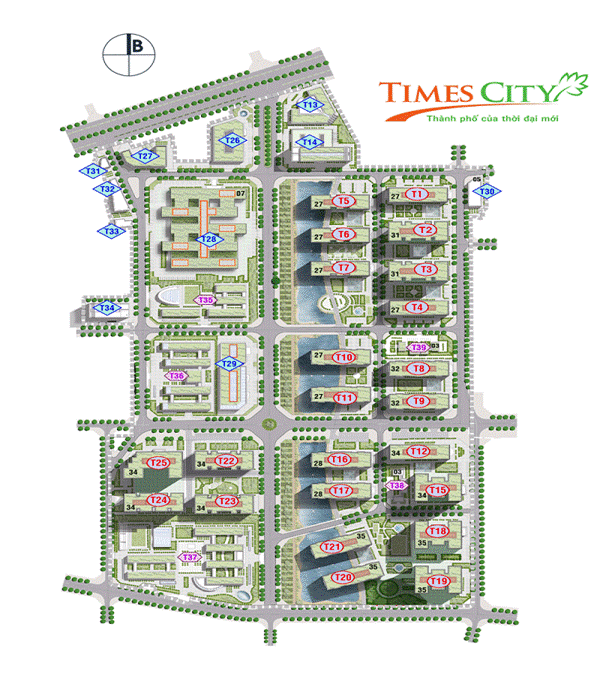 COMERCIAL BUIDING:

Big scale shopping area contains supermarket ( with the area of 11.500 sqm) is the heart of Vincom Mega Mall Times City. At Times City, smart supermartket systems are scientifically arranged in a hormary with the general population, with the presence of hundreds of well-known brand name as fashion, jewelry, cosmetics, fragrances, accessories, electronics, furniture ...in domestic and international, Trade center Vincom Mega Mall - Times City will become a modern and crowded shopping in Southeast Hanoi in particular and Vietnam in general - where you can experience and satisfy the shopping passion.



SCHOOLS

As well as many hi-standard Urban Areas of Vingroup nationwide, Vinschool system in Times City is inherited the equintessence of quality, prestige and good rank services of Vingroup. In which airy space, many trees with modern, high quality equipment and facilities is one of Vinschool outstanding advantages.
Vinschool preschool in Times City was launched in December, 2013. Elementary, secondary and highschool will be constructed in the period of two next year 2014 – 2015. Specifically, Vinschool will deploy to enroll Preschool level: from academy year of 2013 – 2014, the Elementary, Secondary and Highschool level: from academy year of 2014 – 2015.
With philosophy: education for a comprehensive development, Vinschool will nourish, inspire, maximize the students' capability and intelligence in order to train a new generation "Intelligence, Health, Self-motivation, Independence, Humanity, National Pride".



HOSPITAL

Vinmec International General Hospital on the area of 24.000 sqm was launched in January, 7th, 2012. After more than one year operated, Vinmec has been highly appreciated by experts and customers in service quality and professional qualitications.



UTILITIES:

Times City has many included utilities, good services for Times City's citizens.
Residents live at Times City will be entitled to all the services as well as the building's utilities:
- Club activities
- Professional sport and fitness centre, swimming pool
- Green space and landscaped garden in buildings, playgrounds for children.
- Camera system.
- Back-up generator.
- School from Preschool to Highschool level.
- Concierge service.
- 24/24 hour security
- Basement parking lot.
- The commercial centre, restaurants, offices, Vinmec international general hospital.
Fee for using basic utilities of the building:
- Management fee : free within first 10 years
- Swimming pool fee : free within first 10 years
Other fees:
- Gymnasium fee : $100/ month
- Car parking fee : 1.2 million VND/ month
- Motor parking fee: 100.000 VND/ month