APARTMENT FOR RENT IN BUILDING S108 - S112, SAPPHIRE SUBDIVISION
Apartment building S108 - S112, Sapphire subdivision is the apartment building system of Vinhomes Ocean Park project. Possessing strengths in design, synchronous planning in a smart city, apartment building S108 - S112 promises to be the ideal product, perfect living space for residents of the capital.
VINHOMES OCEAN PARK PROJECT OVERVIEW
Vinhomes Ocean Park project is an ocean city - one of the large-scale projects with a scale of 80% of the area of ​​Hoan Kiem district. Modernly designed with cool green space, Vinhomes Ocean Park promises to bring the perfect living standard for future residents.
Trade name: Vinhomes Ocean Park

Project location: Belonging to Gia Lam district, Hanoi

Investor: Vingroup Corporation

Planning area: 420ha

Building density: 19%

Type of product: Apartment, inter-level school, commercial center, comfortable and modern office.
Located in the central area of Gia Lam district, Vinhomes Ocean Park project is considered to own a prime location, convenient transportation to fully meet the needs of life for residents. From the project, residents only take about 5 minutes to move to Chuong Duong bridge, Vinh Tuy bridge and Thanh Tri bridge, besides, the project is also conveniently connected to the central areas of Hanoi city such as Sword Lake, Old Quarter, commercial center,...
APARTMENT DESIGN IN BUILDING S108 - S112, SAPPHIRE SUBDIVISION
Apartment buildings S108 - S112 are designed with a variety of apartment types, including:
Studio Apartment: Studio apartment is designed with an area of 33-40m2, reasonable and compact design suitable for young singles, newlyweds or 2 friends sharing with reasonable price, suitable for living or rental investment.
1-bedroom apartment: Is a system of apartments with a design of 1 bedroom and 1 multi-purpose room that can be used as an office, reading room or storage room. In particular, the 1-bedroom apartment is suitable for newlyweds and young singles.
2-bedroom apartment: Apartment of 2 bedrooms & 1 bathroom is an apartment type with optimal design, including 1 living room, 2 bedrooms, 1 kitchen, 1 loggia and a balcony to catch the sun and wind.
With a convenient balcony system and a multi-purpose space between the 2 bedrooms, residents can take advantage to design the ideal space for the family.
3-bedroom apartment: 3-bedroom apartment in Vinhomes Ocean Park is designed on an area of 75-80m2, owns 2 corner unit with 2 open sides, suitable for families with many generations, many children or families who need a lot of living space .
PERFECT UTILITY AND SERVICE SYSTEM
Living in Vinhomes Ocean Park urban area, residents will not only experience high-class design but also inherit a system of utilities with poetic natural landscapes and perfect services. Utilities include:
Outdoor sports park

150 sports fields

Playground for children

Indoor and outdoor swimming pool system

High-quality gym with international standards including: Gym, yoga, massage,...

The system of modern commercial centers meets the shopping needs of a large number of residents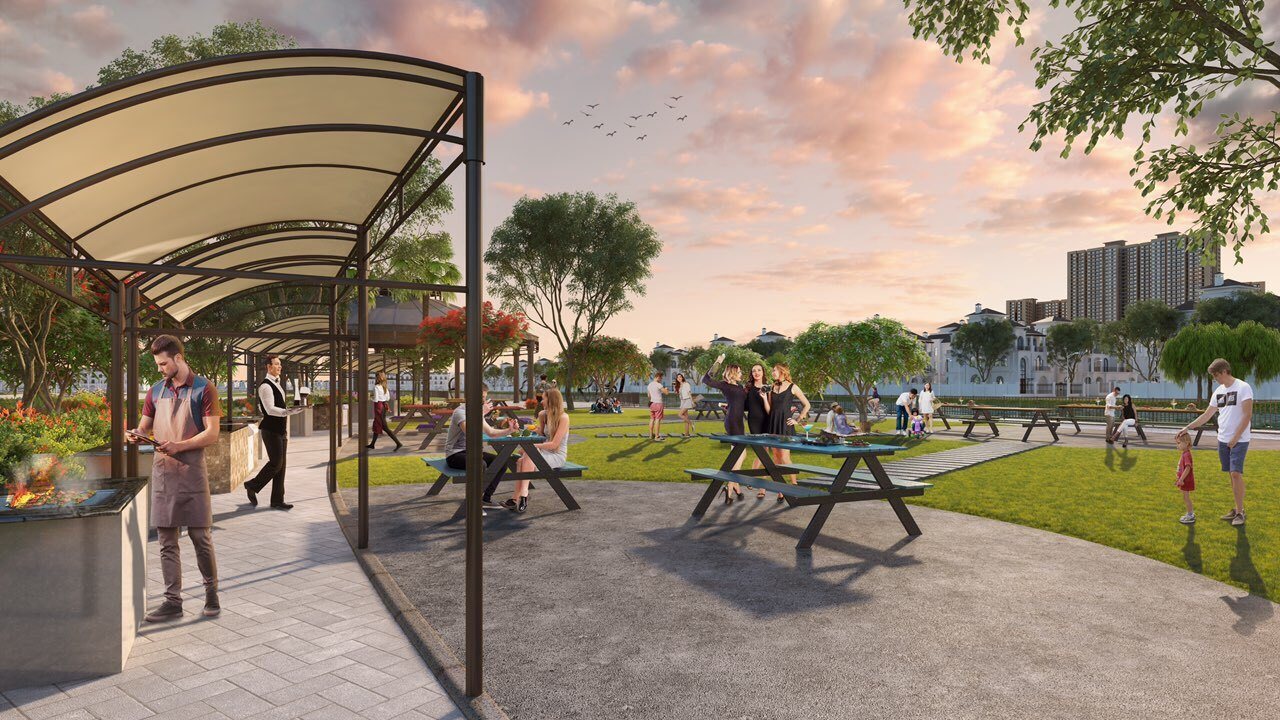 If you are looking for a perfect space with high-class service facilities, Vinhomes Ocean Park apartment is the ideal choice for you.
More: Apartment for rent in S101-S107 Vinhomes Ocean Park