APARTMENTS R1.01 – R1.07 VINHOMES OCEAN PARK FOR SALE
Vingroup or specifically Vinhomes JSC has organized and announced the re-planning of its product lines. Only two brands remain, Vinhomes and Happy Town with three main product lines: Vinhomes Sapphire, Vinhomes Ruby, and Vinhomes Diamond.
R101 - R107 buildings belong to the Ruby product line at Vinhomes Ocean Park.
Vinhomes Ocean Park was built to become a civilized and modern metropolis with Singaporean style. Vinhomes Ocean Park will be a new city with a space filled with green nature, a fresh look, and an exciting spirit that is always ready for the best experiences.
Vinhomes Ruby is a high-class product line, for a civilized and modern customer group, towards a high-class lifestyle, full of utility services.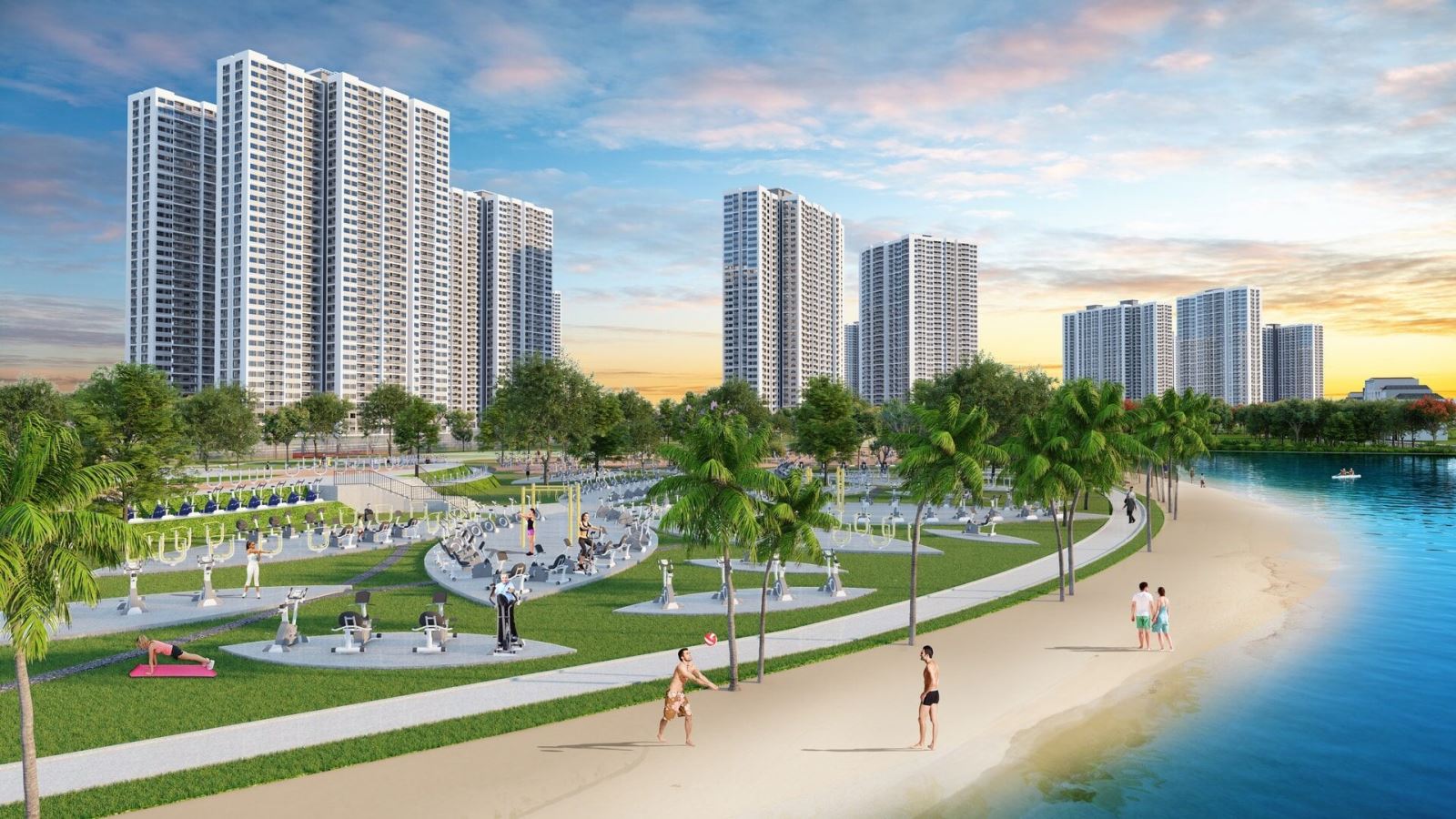 DESIGN FEATURES IN VINHOMES OCEAN PARK
The R101 - R107 buildings at Vinhomes Ocean Park belong to the Vinhomes Ruby product line, with 20 apartments/floor. There is a reception hall, a Lounge lobby, using the elevator card swiping system, and a vending machine.
* Elevator brand Hitachi, Mitsubishi, or equivalent. Quantity from 60 to 90 apartments/elevator
* Ceiling height is 3.4m (with plaster ceiling is 2.7m)
* Apartment corridor: 1.8m wide, VRV/Central air conditioner
* Standard handover: Finishing wall-mounted furniture including Ceiling, Wall, Floor, Kitchen, Sanitary ware, Cabinet system (Lavabo, wardrobe, kitchen cabinet), central hot water system and air conditioning.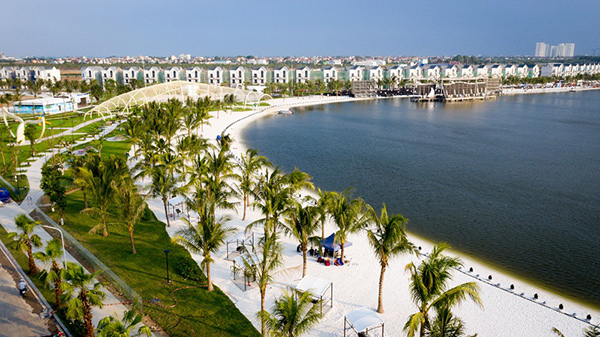 LOCATION OF VINHOMES OCEAN PARK
The apartments in building R101 - R107 at Vinhomes Ocean Park have a wide view. At the southeast and northeast, you can see the central lake, enjoy the cool breeze of the clear blue water and watch the fireworks festival on the lake.
The apartments are located right next to the large 40m wide road "Dong Du - Duong Xa", so it is very convenient for daily transportation. At the same time, it connects directly to the canal system and the area's facilities system. In addition, the R1.01 - R1.07 buildings are also near the Metro Station, railway line 8 connecting Gia Lam with Cau Giay District.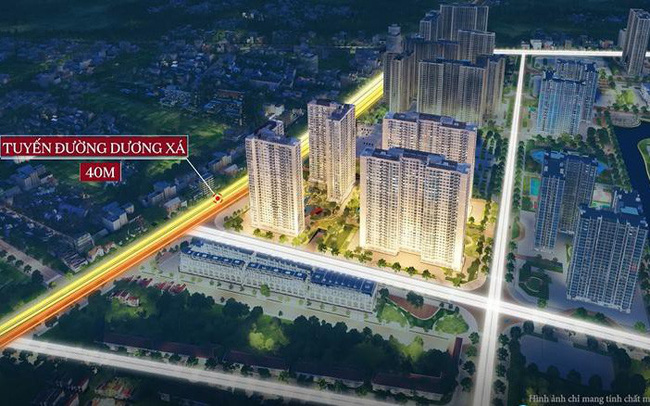 THE AREAS OF VINHOMES OCEAN PARK APARTMENTS
There are many types of apartments suitable for many different uses
* Studio apartments have an area from 31.1 to 32.9m2, suitable for single young people, or foreign professionals working in Vietnam and living alone
* 1 bedroom apartments with an area from 47.9 to 58.4 m2, suitable for young couples.
* 2 bedroom apartments with an area from 75.4 to 81.5 m2, suitable for new families with young children.
* 3-bedroom apartments with an area from 86.1 to 97.9 m2, suitable for extended family living together.
Moreover, the design of each apartment optimizes maximum the area used. Therefore, even the area is not too large, but the space inside feels spacious and airy, the furniture is arranged in a very reasonable way. The rooms inside the apartment have windows or openings for ventilation and light.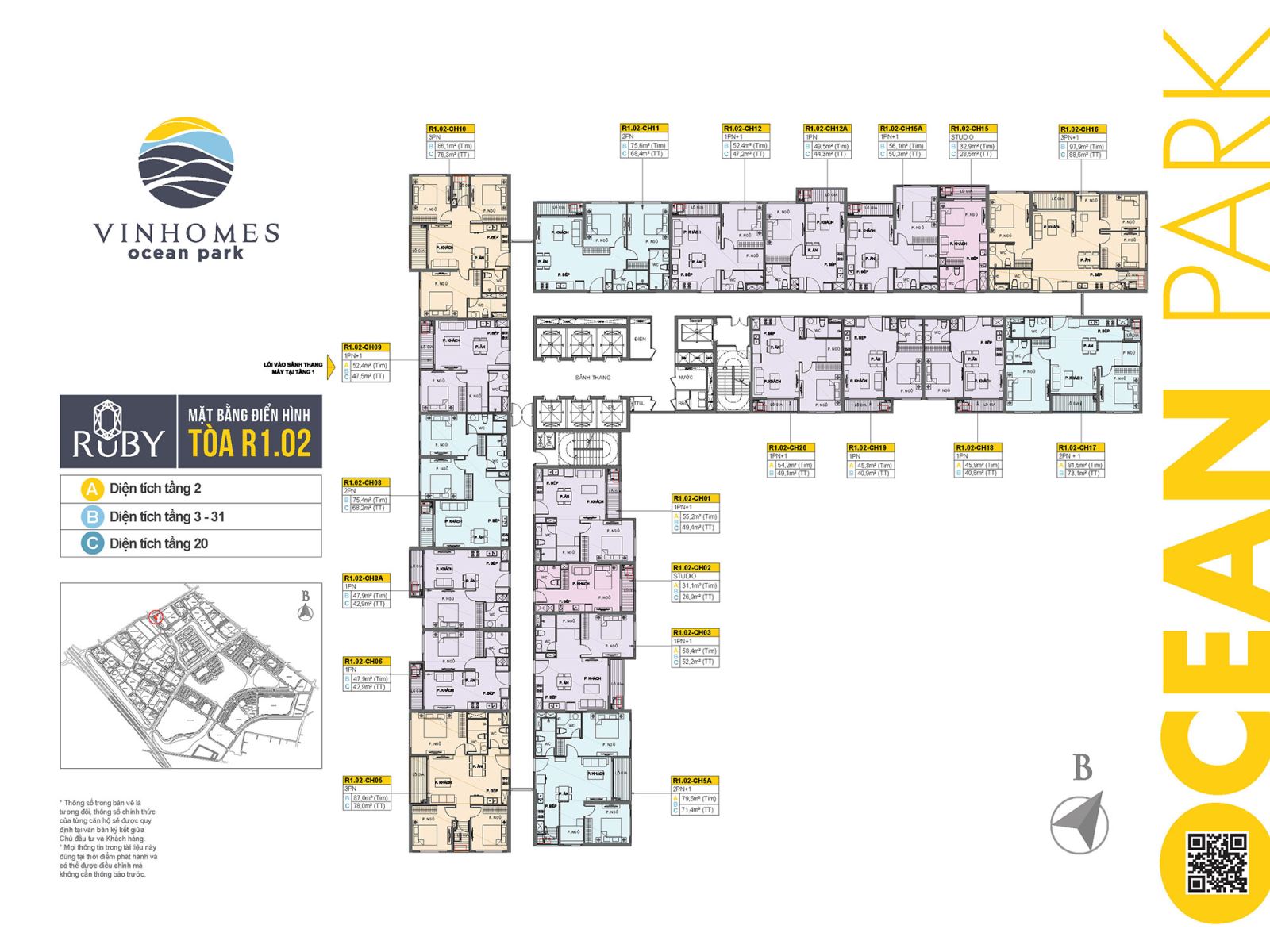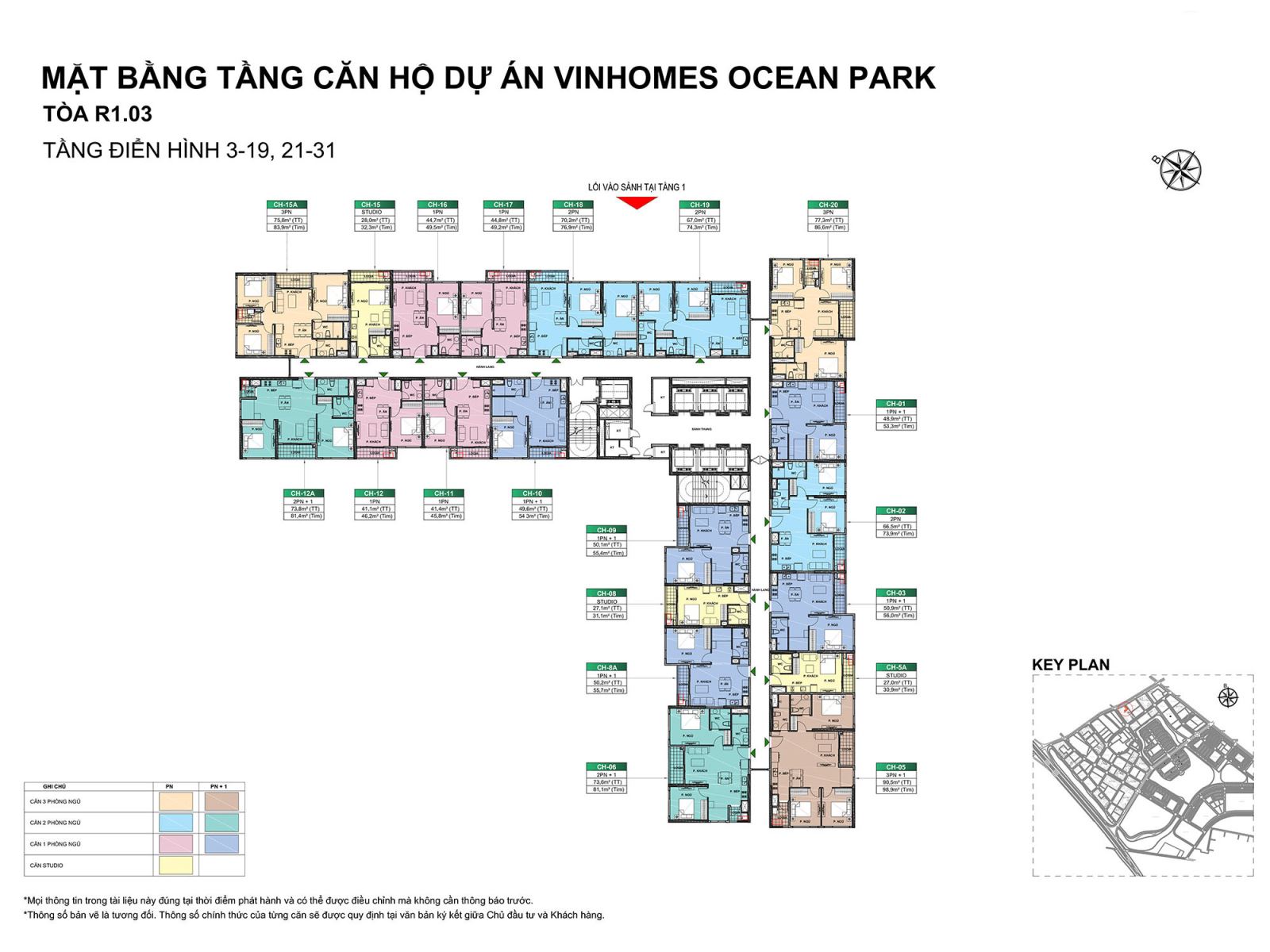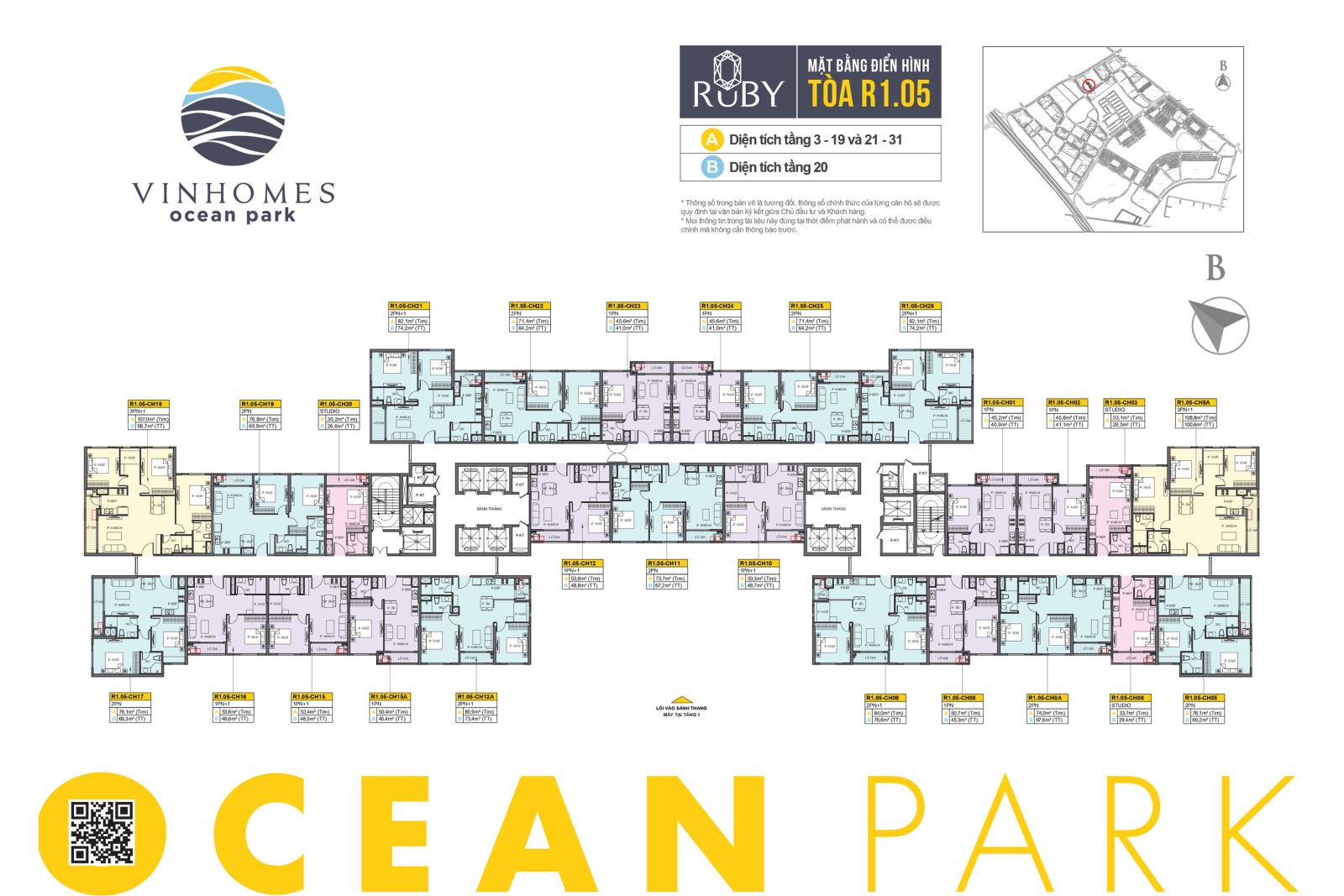 FACILITIES SYSTEM IN VINHOMES OCEAN PARK
Special facilities when owning apartments at buildings R101 - R107 at Vinhomes Ocean Park:
– The first artificial saltwater lake with an area of ​​6.1ha
– The central white sand beach is 24.5ha wide
– BBQ spot for outdoor fun
– Inter-level Vinschool school
– VinUni International University
– Vinmec Hospital
- Shopping mall
– Gym park
– System of sports field
– Indoor and outdoor swimming pool system
– 5-story garage system at the center of each zone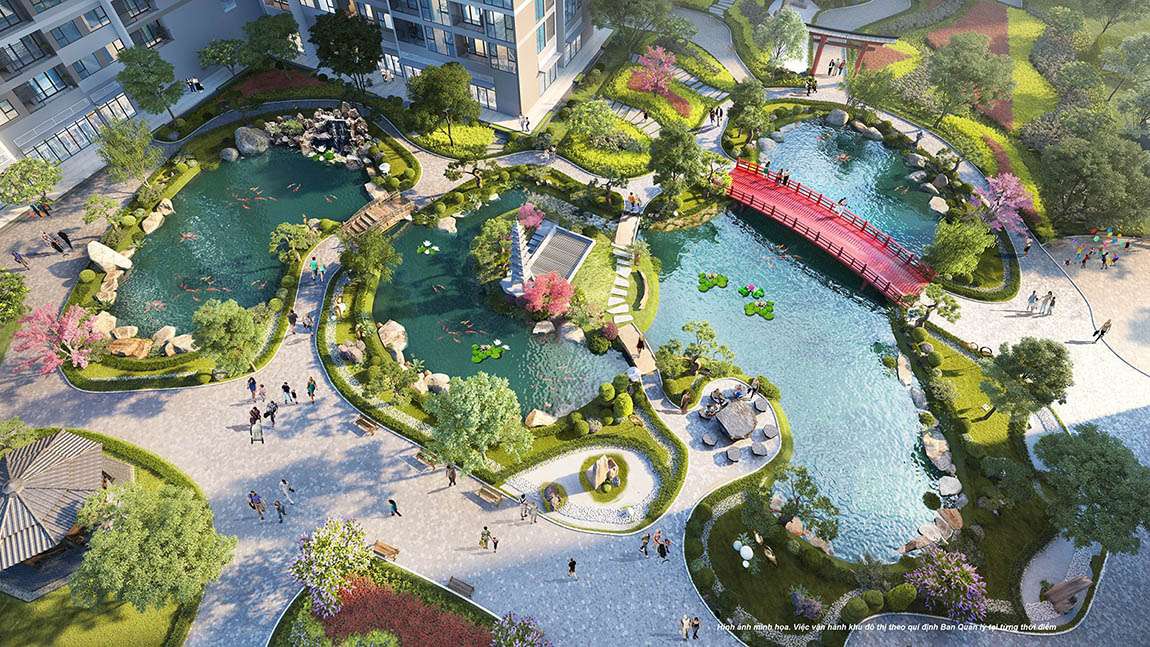 See more: Apartments for sale in R108 - R112 Vinhomes Ocean Park
Land area:

74 m2,

Bedrooms:

2,

Bathrooms:

2

This beautiful 2 bedroom apartment for sale is fully furnished, ready to move in.

Land area:

30 m2,

Bedrooms:

1,

Bathrooms:

1

If you live alone or you are a young couple, we'd love to recommend you this property. This studio in R1.05 building of The Ruby subdivision is now for sale

Land area:

88 m2,

Bedrooms:

3,

Bathrooms:

2

Nothing is better than having a coffee while enjoying a great view right from your apartment.