APARTMENTS S1.01 – S1.07 VINHOMES OCEAN PARK FOR SALE
Building S1.01 and S1.07 are two buildings located in Sapphire 1 - Sapphire By The Sea subdivision at the project. Being located close to the school area helps to shorten the travel time for families and children. Besides, it is also close to the commercial center area and the central sea. Residents can enjoy the best facilities and have a great view from their own apartment.
General information of Vinhomes Ocean Park
- Project location: Gia Lam district - Hanoi
- Building scale: Serviced apartment building
- Building S1.01: 27 floors high and 01 basement.
1st and 2nd floor is shophouses

Total number of apartments: 550
- Building S1.07: 28 floors high with 01 basement.
1st floor is shophouses

Total number of apartments: 513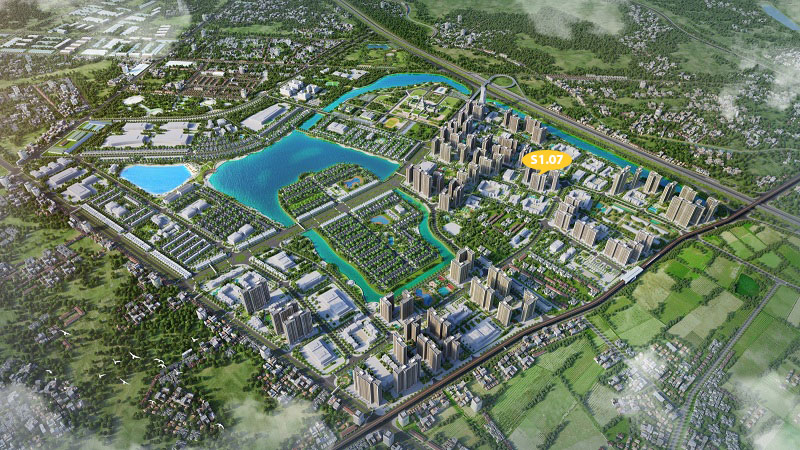 Location of Vinhomes Ocean Park
Building S1.01 and S1.07 are located in Vinhomes Ocean Park, Gia Lam district - Hanoi. Building S1.01 is adjacent to buildings S1.02, S1.03, and Sapphire 2 subdivision. Building S1.07 is adjacent to buildings S1.05 and S1.06, the northeast is adjacent to the school. S1.07 is also adjacent to the green garden. Both buildings are in a convenient location, very close to 5B road, making it easy to connect to the Hai Phong area and coastal provinces.
From the project, it is also convenient for residents to move to Thanh Tri Bridge and Vinh Tuy Bridge or connect to the inner city areas. With a 30-minute drive, you can move to the center of the old quarter, where the ancient and bustling Sword Lake is located. The roads around the project are newly planned, wide, and open.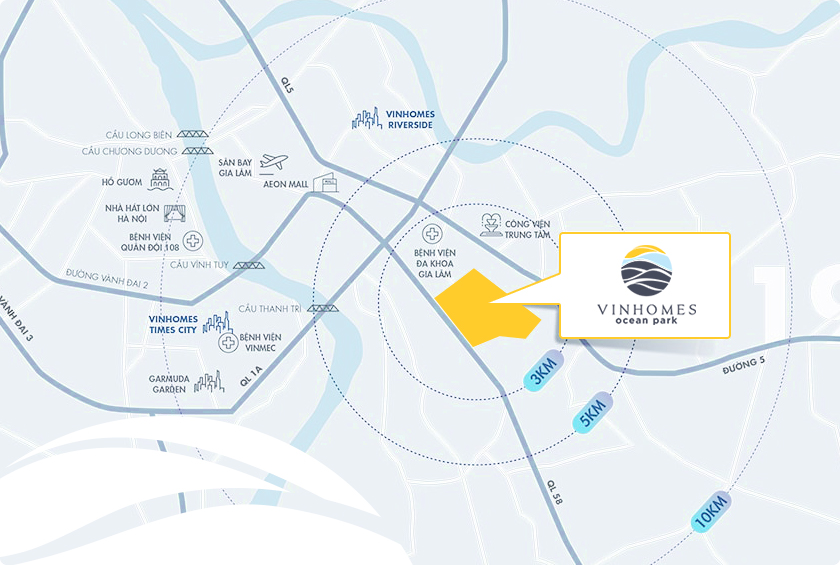 Floor Plan of Vinhomes Ocean Park apartments
Building S1.01 has 27 floors. The first and second floors are for services and commercial areas; the third floor and above are apartment areas. Each floor has 22 apartments/floor with 04 high-speed elevators. The apartment area ranges from 28m2 - 99m2, including 01 to 03-bedroom apartments and studio apartments. Building S01.07 has 28 floors; the first floor is the service area, the second floor and above are the apartment area. Each floor will have 19 apartments, accompanied by 04 high-speed elevators and 02 stairs. Apartments in the building have an area of 28m2 - 76m2, including studio apartments, 01 to 03 bedroom apartments.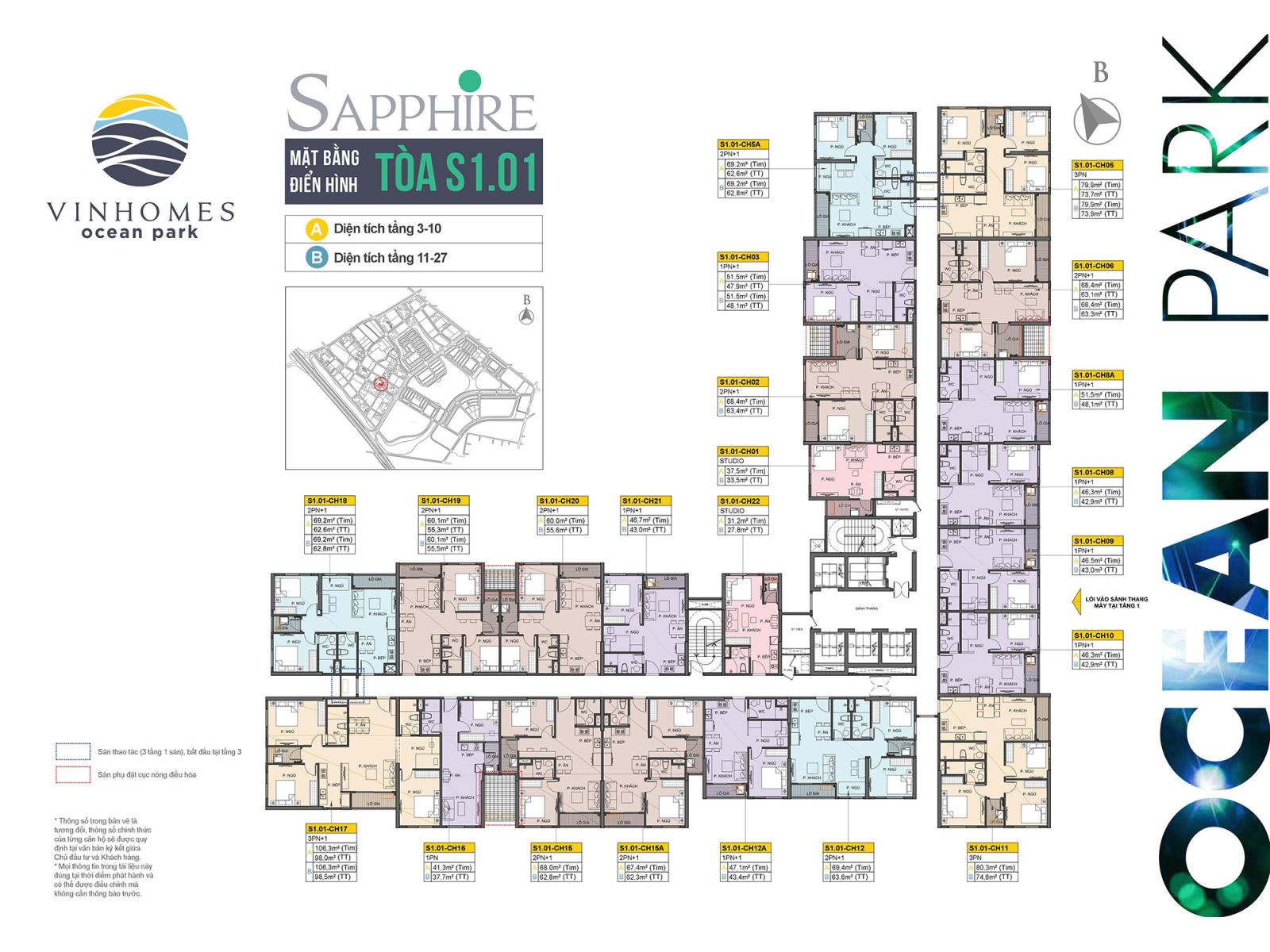 The apartments are built and designed in a modern, square, and minimalist style to optimize space use. Entering the apartment, you will feel a spacious space thanks to the connected living room, kitchen, and entrance hall. It also helps to increase the usable area for the living area. The bedrooms are separate. Inside each room is a large glass door to receive natural light into the room, accompanied by a system of double-layer curtains to create a private space when needed, while softening the light.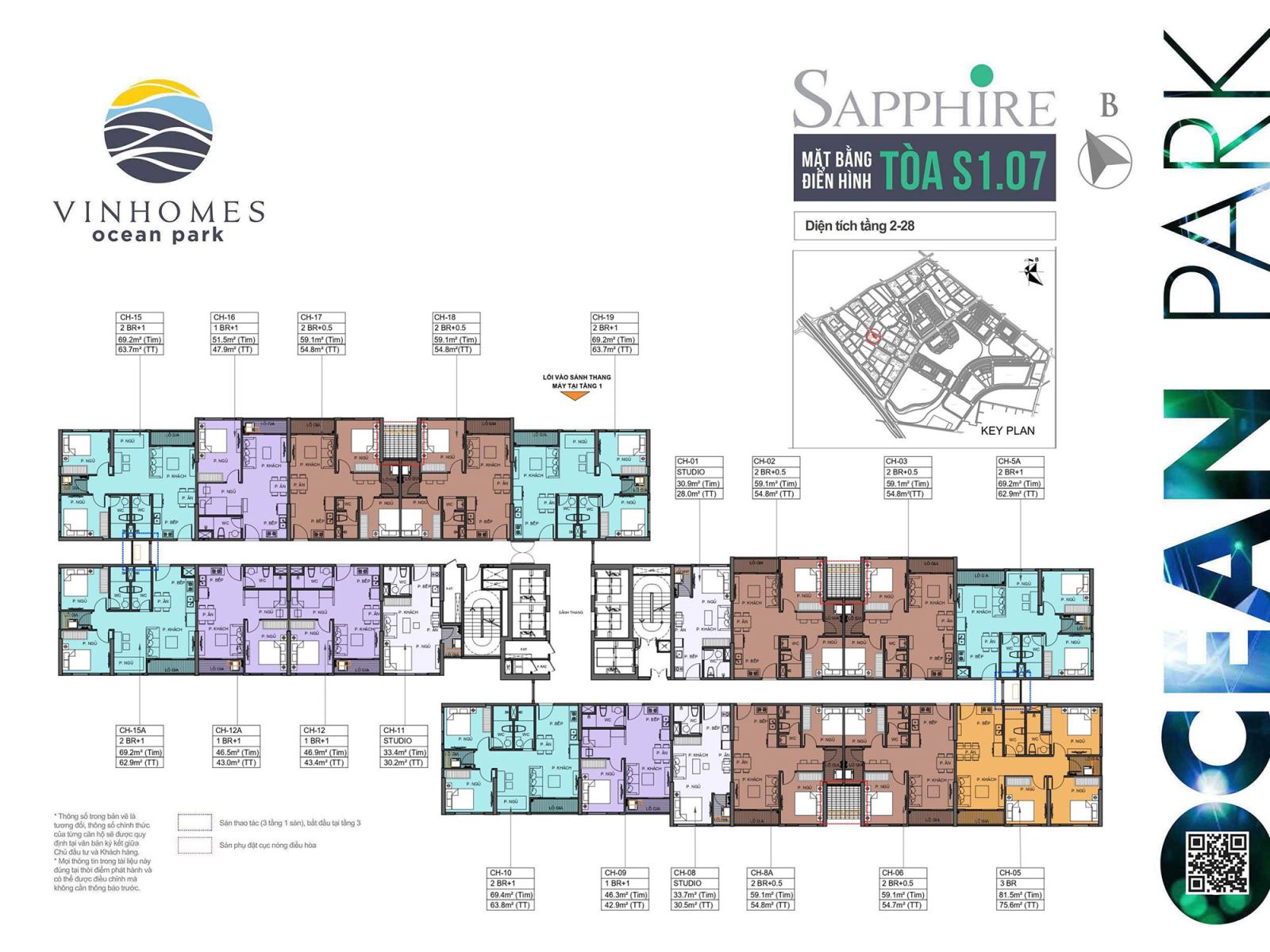 Project facilities in Vinhomes Ocean Park
Vinhomes Ocean Park is an extremely liveable place. Living in Ocean Park, the residents will enjoy a fresh and cool living space thanks to a system of green trees and an air-conditioned lake. Moreover, with the artificial lake located in the center of the project, you will have memorable moments, enjoy the blue sea space, white sand right at your apartment.
VinHomes Ocean Park possesses modern and unique facilities that don't exist anywhere else, such as a sports park system with outdoor exercise machines, a colorful landscape system, an outdoor BBQ system, etc. What's better than having fun with friends at the lake, while enjoying hot food, enjoying life together.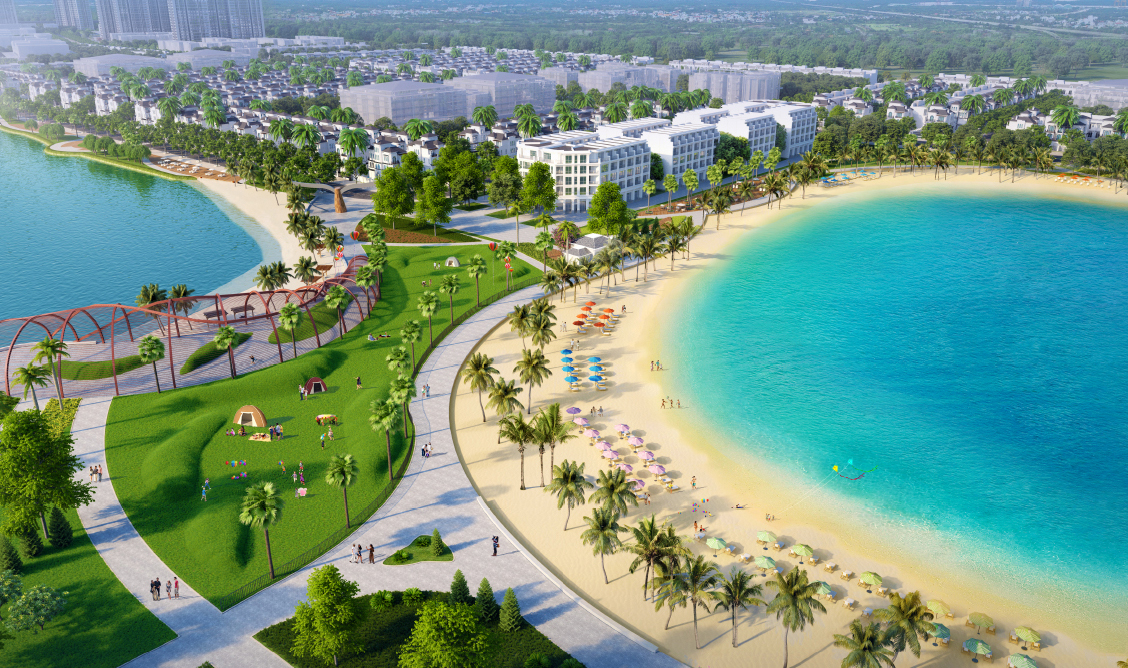 See more: Apartment for sale in S108-S112 Vinhomes Ocean Park
Apartment for sale in S201-S207 Vinhomes Ocean Park
Land area:

90 m2,

Bedrooms:

3,

Bathrooms:

2

Amazing new mordern 3 bedroom apartment, 90m2, fully furnished with Ocean view

Land area:

63 m2,

Bedrooms:

2,

Bathrooms:

1

Bright, airy, spacious, mordern furnishings, this is the apartment you are looking for, an excellent choice for you and your family

Land area:

35 m2,

Bedrooms:

1,

Bathrooms:

1

A stylish and high-class stutio in S1.01 VinHomes Ocean Park is a perfect choice for young people who live alone