APARTMENT FOR SALE IN VINHOMES SYMPHONY
THE SYMPHONY BETWEEN GREEN LAND
Vinhomes Symphony luxury apartment complex is located right in the heart of Vinhomes Riverside, a luxurious ecological urban area in the east of the capital. With the perfect infrastructure planning on the foundation of green trees and large water surface, apartment for sale in Vinhomes Symphony is now one of the livable urban areas of Vietnam, bringing together the elite community of Hanoi residents.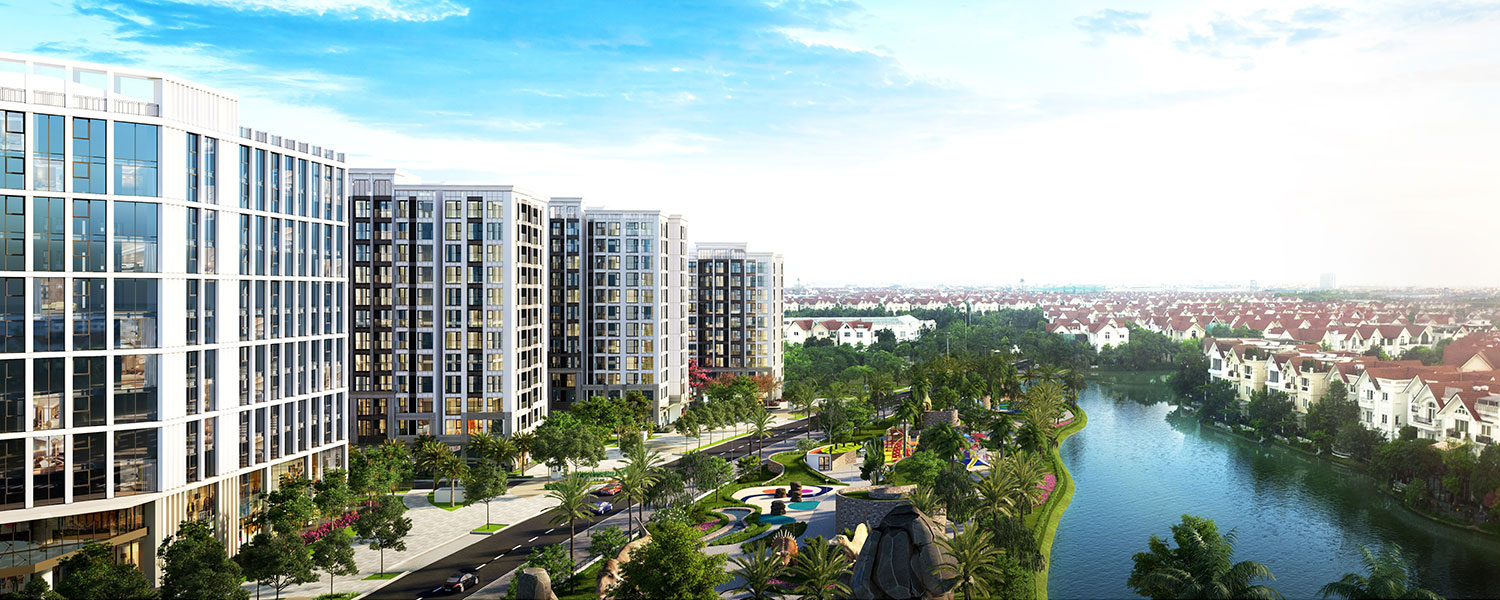 OVERVIEW OF VINHOMES SYMPHONY APARTMENT
Vinhomes Symphony Long Bien is a high-class apartment building in Vinhomes Riverside Long Bien built and developed by Vingroup with 7 towers, 9-15-storey apartment buildings, providing the real estate market with about 1500 apartments. High-class right in the beautiful Vinhomes Riverside project complex has been put into operation.
Located in an area with rapid development of infrastructure, as an apartment complex in the Vinhomes Riverside eco-urban complex, Vinhomes Symphony apartments really bring a high-class living space to fully meet. living needs of numerous customers.
Project name: Vinhomes Symphony

Invester: Vinhomes Joint Stock Company

Location: Phuc Dong - Phuc Lơi Commune, Viet Hung – Long Bien District – Hanoi

Design consultant: Archivina

Project area: 4,3 ha.

The project scale consists of 7 towers with height from 9 to 15 floors.

Construction floor area: 219.608 m2

Type of development: Podium shop, Office, Apartment

Basement 1 floor connected together, total area: 43300 m2, parking area: 35600 m2

Total of apartments: 1500 luxury apartments, total area: 88600 m2

Total of Shophouse: 62 units, total area: 7170 m2

Commencement: Quarter 1 - 2019.

Expected ownership: Permanent Pink Book
LOCATION OF VINHOMES SYMPHONY APARTMENT FOR SALE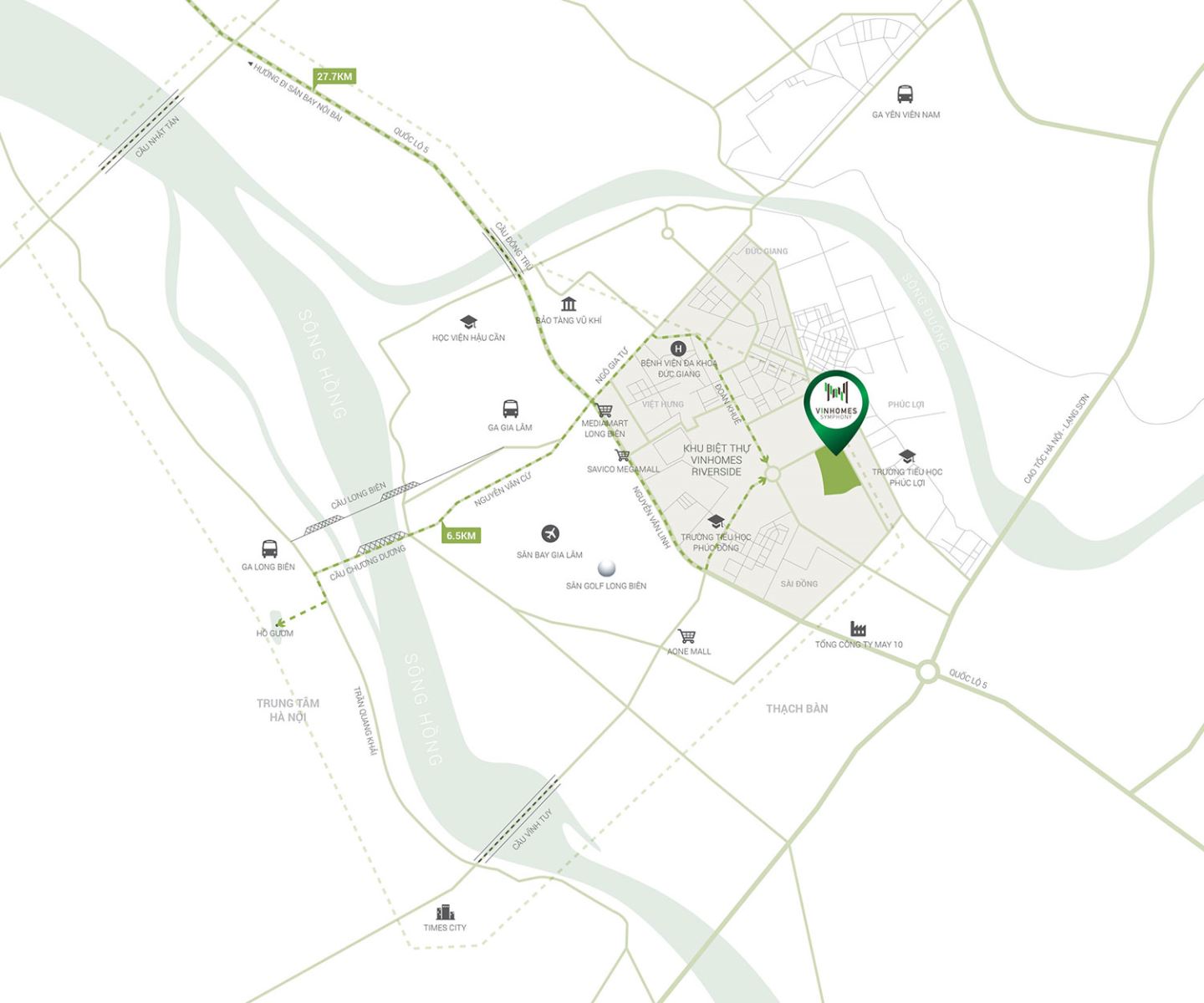 Located at the gateway to the northeast of the capital, the Vinhomes Symphony project is located in Phuc Loi, Phuc Dong, Viet Hung - Long Bien - Hanoi, converging all elements of traffic, infrastructure for the development. economic development. Owning a prime location, from the project, residents can move conveniently to neighboring provinces such as Hung Yen, Bac Ninh, Thai Nguyen. Besides, close to Vinh Tuy Bridge, located on the main road of Hanoi, Vinhomes Symphony is a bridge connecting the central locations of the capital.
One of the highlights of the Vinhomes Symphony is right opposite Vincom Plaza and Jura Park Dinosaur Park.
From the Vinhomes Symphony Riverside Long Bien project, residents can easily connect to:
Distance from National Road 5A: 1,7 km.

Distance from Long Bien golf course: 2.2 km.

Aeon Mall Long Bien: 3 km.

Distance from National Road 1A: 3 km.

Vinh Tuy Bridge: 3,8 km.

Chuong Duong Bridge: 7 km.

Times City/Vinmec Hospital: 7 km.

Hoan kiem Lake: 8,5 km.

West Lake: 10 km.

Noi Bai Airport: 25 km
FLOOR PLAN OF VINHOMES SYMPHONY APARTMENT BUILDING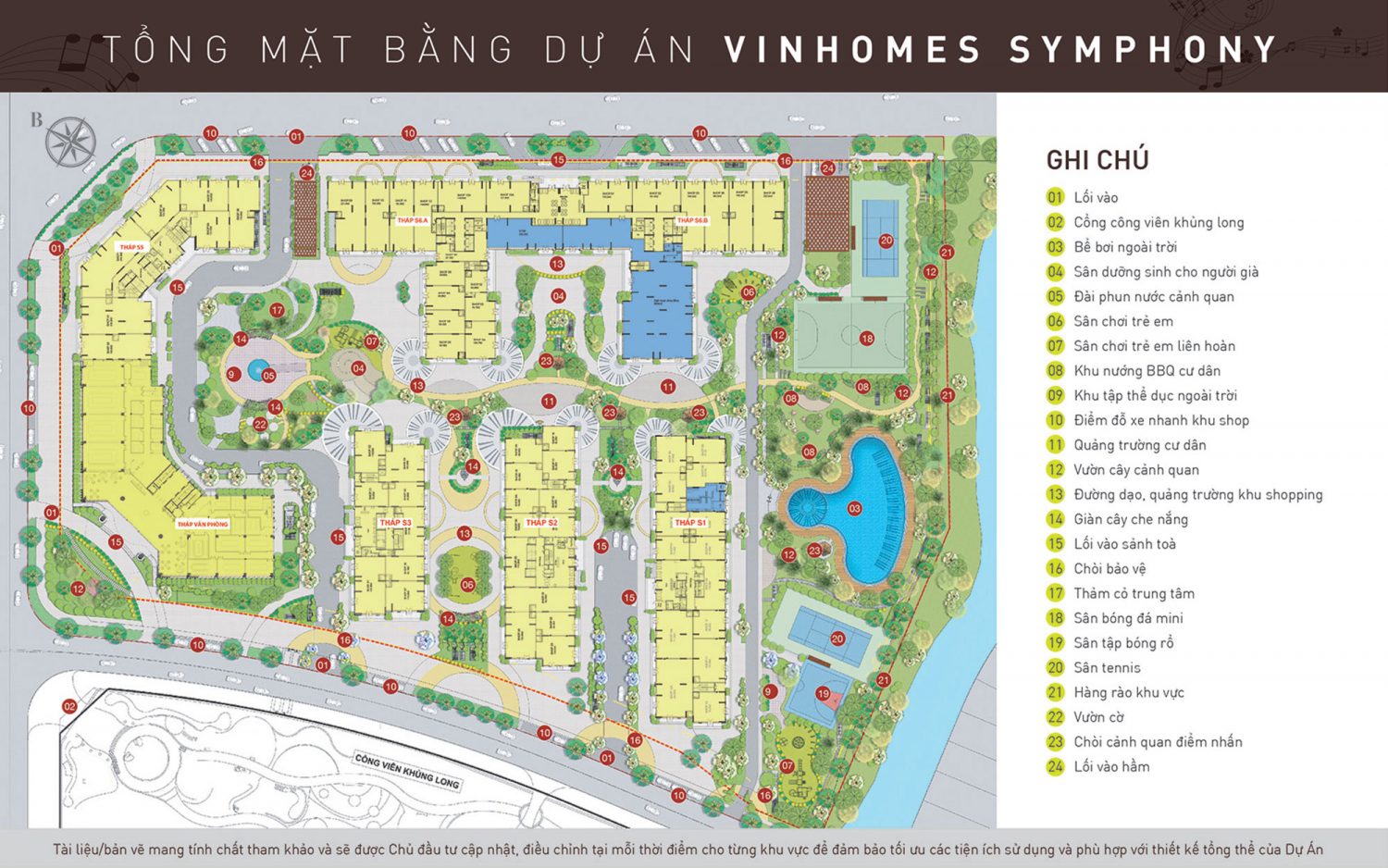 Vinhomes Symphony apartment building is designed with 7 apartment buildings:
- S1: 10 floors, 23 apartments/floor

- S2: 12 floors, 19 apartments/floor

- S3: 12 floors, from 2 to 10: 14 apartments/floor, from 11 to 12: 12 apartments/floor

- S5: 15 floors, from 2 to 5: 18 apartments/floor, from 6 to 15: 16 apartments/floor

- S6: 15 floors, from 2 to 5 of S6A: 27 apartments/floor, S6B: 26 apartments/floor ( total 53 apartments/floor)

- From 6-15 of S6A: 25 apartments/floor, S6B: 24 apartments/floor ( Total 49 apartments/floor)
DESIGN OF APARTMENTS FOR SALE IN VINHOMES SYMPHONY
Inspired by the idea of ​​"Symphony", the investor of Vinhomes Symphony project wishes to bring residents a peaceful, peaceful life here. Here, residents will experience life to the fullest thanks to the modern internal and external utilities system.
Vinhomes Symphony apartment is a modern design with an area ranging from 37m2 - 119, 5m2, designed from 1-3 bedrooms reasonably, suitable to the needs and financial potential of households, individual or customer group. With a modern design, the apartments are provided with sufficient natural light, from a high view to admire the panoramic view of the space inside the urban area, with more than 70ha of green space, 18.8km of canals and 12.4 hectares of lake is cool.
Vinhomes Symphony apartment for sale are designed with a variety of apartments for customers to easily choose according to their use needs with 1PN to 3PN apartments with an area of ​​35m2 - 121m2. Inside
- Studio: 37,0m2 – 39,4m2

- 1 bedroom: 35,6m2 – 46,7m2

- 2 bedrooms (1 restroom): 53,0m2 – 61,0m2

- 2 bedrooms (2 restrooms): từ 66,0m2 – 77,8m2

- 3 bedrooms: 88,2m2 – 119,5m2.
Vinhomes Symphony apartment is designed with modern, open space design, creating a cool and fresh space. The apartment building is built with a low density, ensuring distance as well as bringing a natural atmosphere.
UTILITIES OF VINHOMES SYMPHONY'S APARTMENT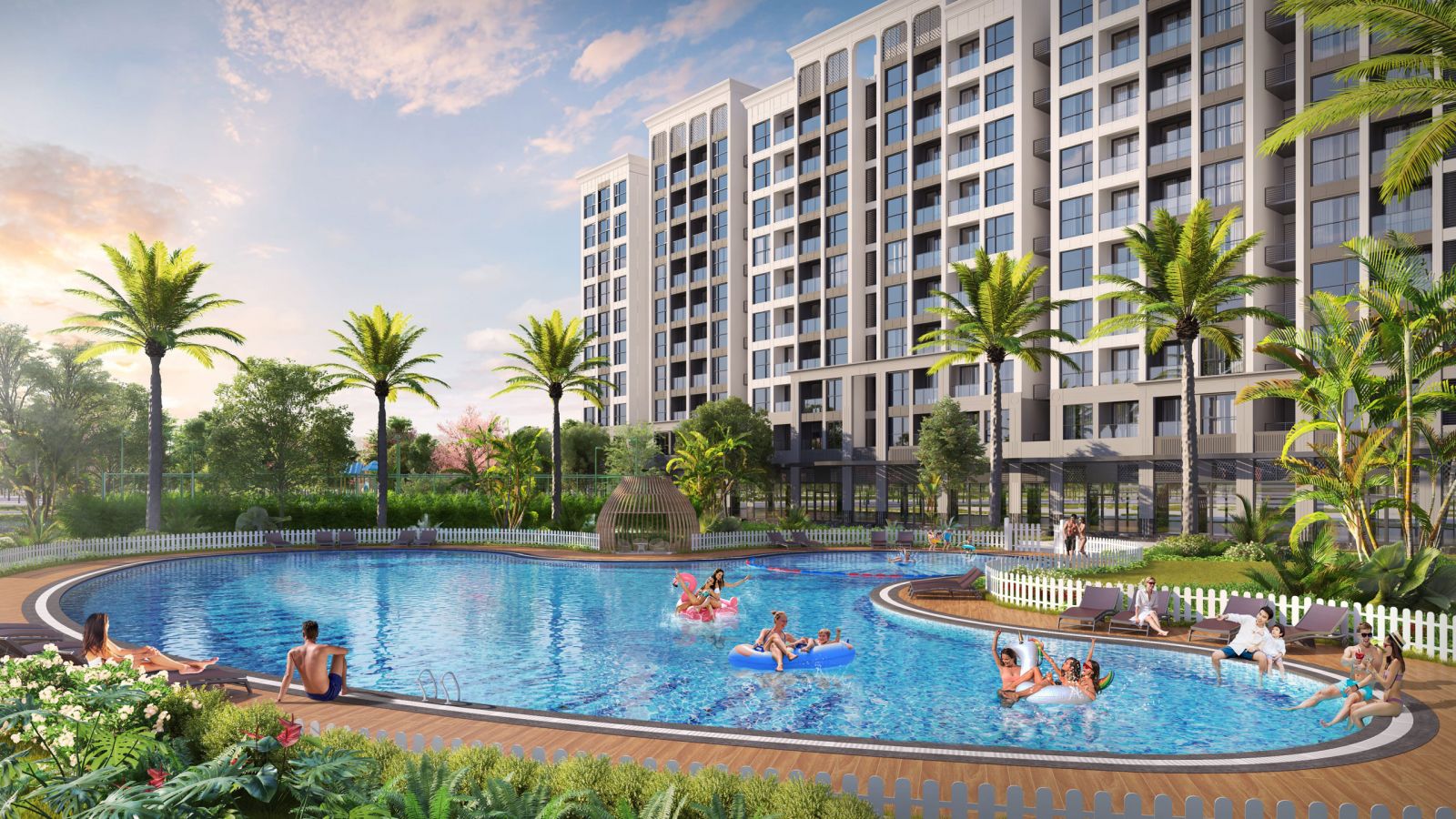 Vinhomes Riverside has long been known as the most livable urban area in Hanoi capital with the scale of "crisis" up to about 271 hectares including 2 stages The Riverside and The Harmony, of which more than 100 hectares dedicated to trees Green and water create a fresh atmosphere.
Vinhomes Symphony apartment complex is embraced by the two most expensive villas in Hanoi, The Riverside and The Harmony, such as "Venice in the heart of Hanoi" with a series of utility services dedicated to the villa area such as: Vincom Plaza, Almaz international cuisine & convention center, dinosaur park, BVIS international school… facilities such as tennis court, basketball, badminton, outdoor swimming pool, garden BBQ ...
The investor cleverly creates a busy commercial center system, multifunctional entertainment area, green swimming pool, green park, health system, quality education. 5 * standard utility system to meet the high-class living needs of the majority of residents.
Especially, being evaluated as a rare urban area with an extremely large ecological system in the heart of the capital, Vinhomes Symphony Apartment offers residents here green space with a density of up to 70m2. /people. Vegetation of up to 70ha with 18.6km of canals, and 12m 4ha of Harmony Lake help balance ecosystems, regulate natural climate, and contribute to creating the freshest and coolest living space.
SECURITY SYSTEM
In addition to modern design, cool green environment, synchronized utilities, Vinhomes Symphony Apartment for sale also brings great security system. Security systems are 24/7 controlled, with security guards and cameras installed in essential areas for your absolute safety.
In particular, Vinhomes Symphony has extremely preferential prices, suitable for young couples or households with average income. What is more wonderful than a luxury apartment apartment, preferential prices, all your needs will be provided with the maximum way to enjoy a dream life.
Owning Vinhomes Symphony project apartments will help you feel about a life with full modern amenities, and this is the first choice of many people.
At Tan Long Land, we are a distributor of real estate projects with many experts with more than 20 years of practical experience in the market and a sales staff of up to 1000 people. With the same desire to bring customers the best quality products with the best products and the best service environment, Tan Long Land has been raised, positioned, and branded in Vietnam. We commit to providing the best consulting service to our customers to help them choose the appropriate apartment for rent in Vinhomes Symphony.

List of properties for sale