VINHOMES SYMPHONY - THE SYMPHONY BETWEEN THE GREEN REGION
Vinhomes Symphony is a complex of 7 high-class towers in Vinhomes Riverside Long Bien urban area. Owning an ecological complex with more than 72ha of green parks, 18km of rivers and lakes, and 12.4ha of water surface, accompanied by a high-class utility system, residents at Vinhomes Symphony have a peaceful life to the fullest.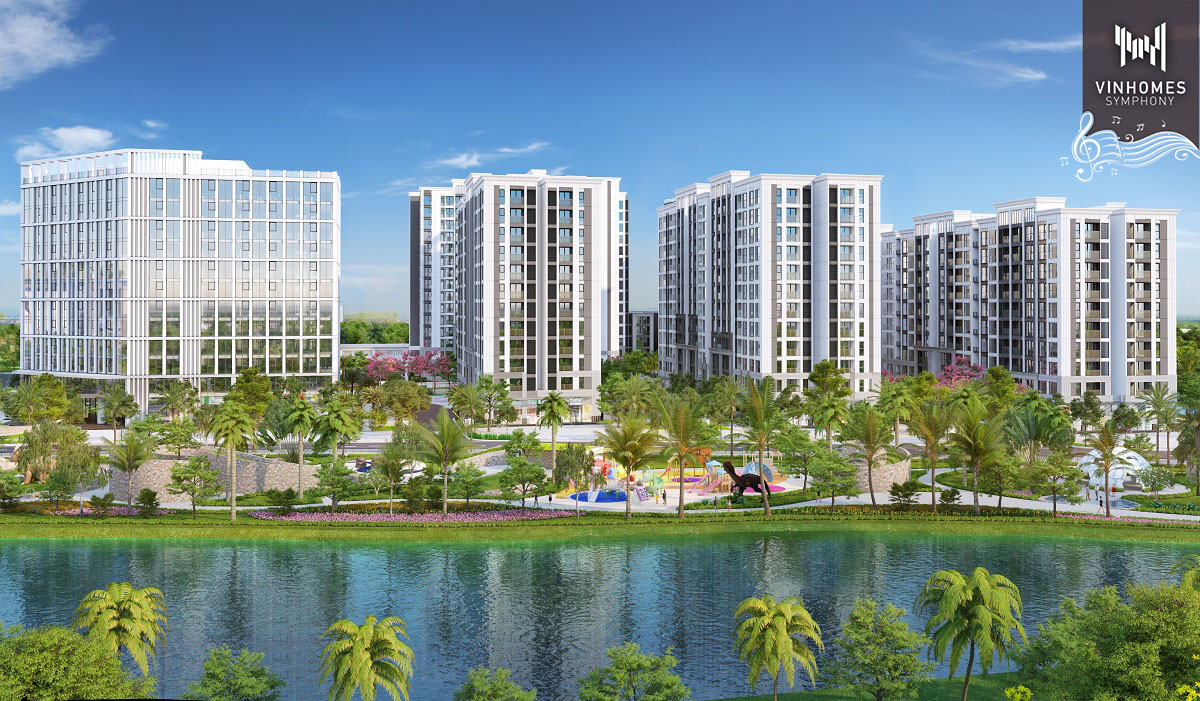 VINHOMES SYMPHONY PROJECT OVERVIEW
Project name:

Vinhomes Symphony

Location:

Phuc Loi Ward, Phuc Dong, Viet Hung - Long Bien – Hanoi

Design consultant:

Archivina

Project Area:

4.3 ha

Project scale:

includes 7 towers from 9 to 15 floors

Construction floor area:

219.608 m2

Type of development:

Shop podium, Office, Apartment

One-story basement, total area:

43.300 m2,

parking area:

35.600 m2

Total number of apartments:

1.500 luxury apartments,

total area:

88.600 m2

Total number of Shophouses:

62 units,

total area:

7.170 m2

Commencement:

1st quarter of 2019

Expected form of ownership:

Long-term pink book
LOCATION OF VINHOMES SYMPHONY LONG BIEN PROJECT
Vinhomes Symphony Apartment owns a prime location at the intersection of 2 Chu Huy Man and Hoi Xa streets. This is an area with developed traffic infrastructure with many 6-8 lane routes such as Chu Huy Man, Doan Khue, Nguyen Van Linh, Ngo Gia Tu ... helping residents living in Vinhomes Symphony can easily connect. to the inner city and neighboring provinces such as Bac Ninh, Bac Giang, Hung Yen, Hai Duong, Hai Phong...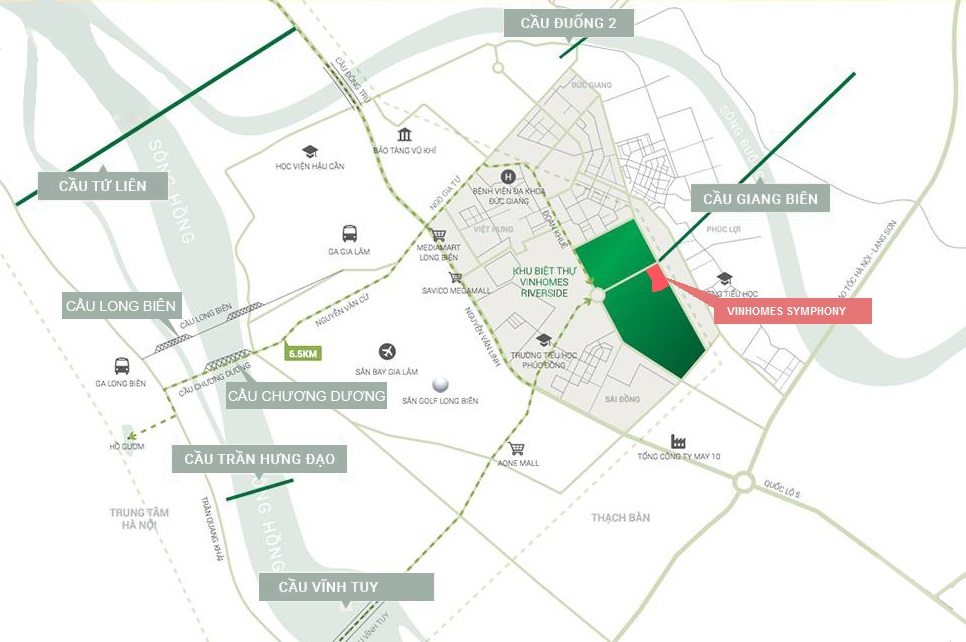 One of the highlights of Vinhomes Symphony apartments for rent or sale is located right opposite Vincom Plaza and Jura Park Dinosaur Park.
From the Vinhomes Symphony Riverside Long Bien project, residents can easily connect to:
- Distance from National Highway 5A: 1.7 km.
- Long Bien golf course: 2.2 km.
- Distance from Aeon Mall Long Bien: 3 km.
- Distance from National Highway 1A: 3 km.
- Distance from Vinh Tuy bridge: 3.8 km.
- Distance from Chuong Duong bridge: 7 km.
- Times City urban area / Vinmec hospital: 7 km.
- Distance from Sword Lake: 8.5 km.
- Distance from West Lake: 10 km.
- Distance from Noi Bai airport: 25 km.
FLOOR PLAN OF VINHOMES SYMPHONY
Vinhomes Symphony apartment building is designed with 7 apartment buildings:
- S1: 10 floors high, 23 apartments/floor
- S2: 12 floors high, 19 apartments/floor
- S3: 12 floors high, from 2nd to 10th floor: 14 units/floor, 11th floor 12: 12 units/floor
- S5: 15 floors high, from 2nd to 5th floor: 18 units/floor, from 6th to 15th floor: 16 units/floor
- S6: 15 floors, From 2-5 buildings S6A: 27 units/floor, S6B building: 26 units/floor (total 53 units/floor)
From 6 to 15 S6A buildings: 25 units/floor, S6B building: 24 units/floor (total 49 units/floor)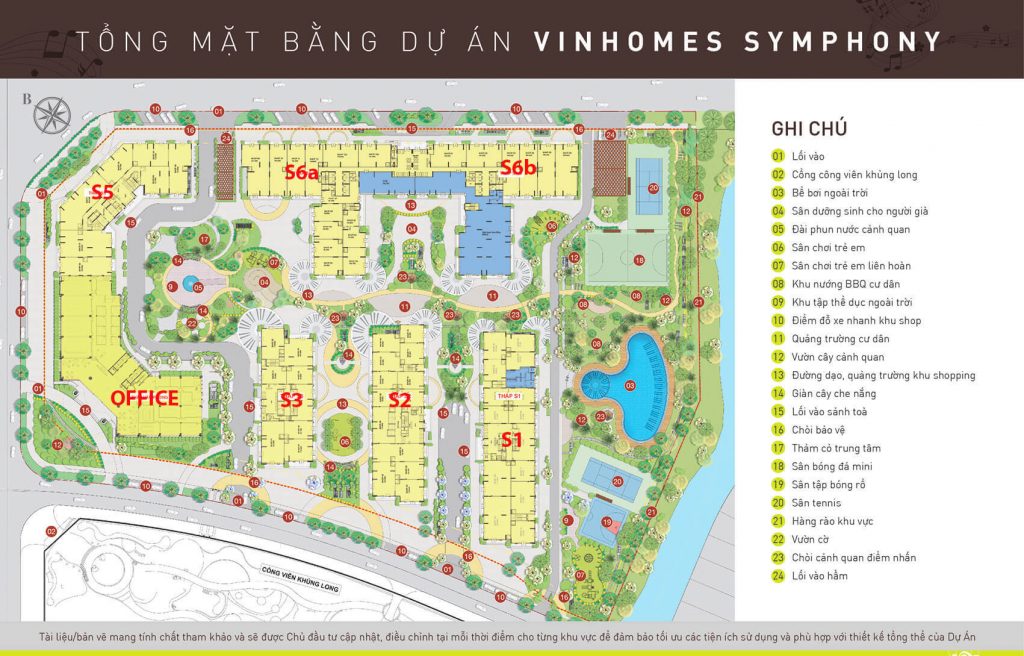 Vinhomes Symphony Long Bien is planned on a land lot of more than 4.3 hectares with 7 extremely low apartment buildings with only 9-15 floors, each floor is only 14-26 apartments/floor.
Apartments in Vinhomes Symphony are designed with 1-3 bedrooms, the expected area from 35-121m2.
- Apartment with 1 bedroom, 1 bathroom: 38m2 to 40m2.
- Apartment with 2 bedrooms, 1 bathroom: 55m2 to 65m2.
- Apartment with 2 bedrooms, 2 bathrooms: 65m2 to 80m2.
- Apartment with 3 bedrooms, 2 bathrooms: 80m2 to 100m2.
- Apartment with 3 bedrooms, 3 bathrooms: 95m2 to 120m2.
MODERN UTILITIES FOR THE DREAM LIFE AT VINHOMES SYMPHONY
As a corporation aiming for perfection in each of its products, Vinhomes always brings high-class and modern projects and Vinhomes Symphony is one of the products built with the convergence of distinct advantages.
The Vinhomes Symphony project is aimed at high-class residents, that's why the living space is built with a series of modern and appropriate technological facilities. With those new advantages, the project is becoming a prominent name in the Southeast area of ​​Hanoi city.
The basic to modern life needs of residents are fully met at the Vinhomes Symphony apartment project. The investor builds a system of important and classy utilities, suitable for all modern residents.
A high-class utility system, fully meeting all needs from shopping, entertainment, entertainment ... is served "package" at the project promises to be worth living. The ecosystem that the investor Vinhomes Symphony creates for the project is also remarkable, providing a green living space for all modern residents. Especially with such advantages, the project is also suitable for all customers who love convenient, modern, and green living.
Technological factors are used by Vinhomes investors in the construction of utility systems. Future residents have the opportunity to live in an ideal technological elite apartment complex.
Not only the interior but also the outside of the project also converges outstanding facilities and modern infrastructure, meeting the needs of a comfortable and convenient life. It's great that a project with a scale of 43,541 m2 has all the high-class facilities like a miniature city.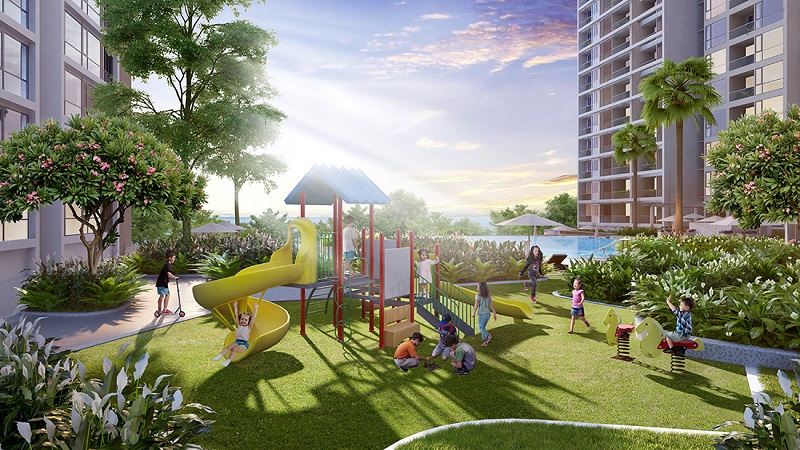 As a project of Vinhomes, other "brothers" of Vin Group were also built here to meet the needs of modern residents, namely:
Trade, shopping, entertainment, and entertainment centers such as Vincom, Vinmart, Vinpro, CGV, BBQ

For health, there is Vinmec hospital, for education, there is Vinschool, which is very convenient and reassuring for all families

Professional management service from Vinhomes

Amusement parks

The variety and completeness in terms of modern facilities in the apartment project promise to meet and bring many interesting experiences for all modern residents.
INVESTOR OF THE VINHOMES SYMPHONY PROJECT
As a "big man" in the business and investment market, Vingroup not only has great capital and a high reputation but is also a leading investment unit with many large projects under the brand names of Vinhomes and Vinpearl on two lines. accommodation and resorts.
A series of famous projects such as Vinhomes Riverside, Vinhomes Royal City, Vinhomes Times City, Vinhomes Lieu Giai, Vinhomes Nguyen Chi Thanh, Vinpearl Bai Dai, Vinpearl Nha Trang ... are all successes of Vingroup in the real estate market. In addition to becoming the leading investor in the market and being voted as the most prestigious investor by consumers for many years in a row, Vingroup also builds utility chains and management and operation units under its own brand. , fully meet the requirements of service, management, and utilities of customers in accordance with high-class and high-class standards of Vinhomes.
Therefore, with Vinhomes Symphony, customers can rest assured because the investor Vingroup will fulfill its commitments to the best, build a different system, connect the brand chain in the West of the capital together, create creating the most elite, civilized, and modern Vinhomes community.
If customers cares about this project - Vinhomes Symphony, don't hesitate to call us through this hotline: 0986 72 720. The staff in Tan Long Land will support you as soon as possible.
See more: Vinhomes Ocean Park project
List of properties for rent/sale