SHOPHOUSE FOR SALE IN VINHOMES OCEAN PARK GIA LAM - UPDATED IN 2023
As one of the largest large-scale urban areas in Hanoi, Vinhomes Ocean Park Gia Lam offers a system of expensive shophouse products, attractive investment potential, and promises to bring first-class ideal products for the capital community. The shophouse for sale in Vinhomes Ocean Park is a special product, serving dual purposes - business and living, and is considered a sustainable and stable profitable investment channel.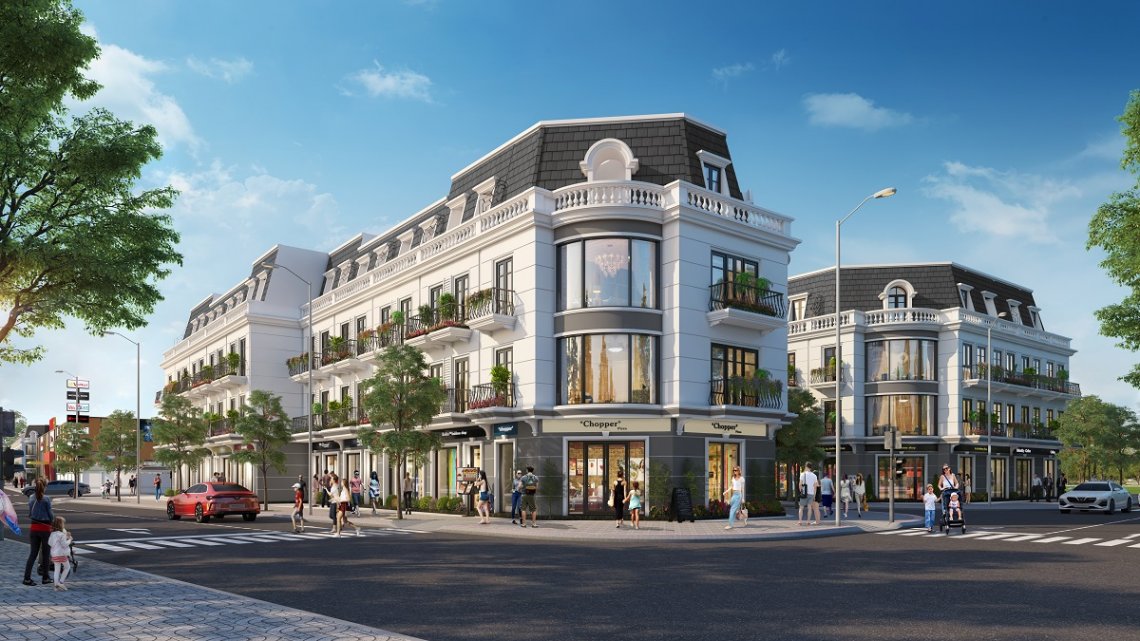 The illustration of shophouse for sale in Vinhomes Ocean Park
INTRODUCTION OF THE SHOPHOUSE FOR SALE IN VINHOMES OCEAN PARK
Planned to build on an area of 170-300m2, Shophouse for sale in Vinhomes Ocean Park makes a strong impression on its 2-in-1 design for both living and business. In particular, shophouse townhouses are designed with two main types as follows:
Commercial podium shophouse
Shophouse podiums are shophouses on the 1st and 2nd floors of apartment buildings for commercial purposes, serving the shopping and dining needs of residents in the building, including convenience stores, supermarkets, restaurants, cafes, beauty,...
The podium shophouses have an average area of 35-80m2, especially some apartments up to 100m2.
Possessing a modern design, podium shophouse Vinhomes Ocean Park for sale have prices ranging from 3 to 15 billion VND/unit.
Low-rise shophouse
The low-rise shophouse product type has an expensive location, built on the arterial roads of the Vinhomes Ocean Park project, adjacent to the central areas and densely populated areas such as 52m road surface, 30m road surface, 40m road surface, close to the sea, saltwater lake, pedestrian street, residential area, and the central lake.
Compared to the podium shophouse, low-rise shophouse products possess great price appreciation, long-term ownership advantages, high liquidity, and easy transferability.
WHY SHOULD YOU CHOOSE SHOPHOUSE VINHOMES OCEAN PARK?
Prime location: Vinhomes Ocean Park project is planned in Gia Lam, Hanoi. Convenient location, easy to move to downtown areas via National Highway 32, and also convenient to Noi Bai international airport by bus route. Located in the leading urban area in the North, the commercial shophouse system is located in the position with the highest economic privileges, the greatest incentives to create sustainable value.
Synchronized utility system
Synchronously planned in Vinhomes Ocean Park urban area, residents will inherit a system of utilities including Vincom commercial center, electronics supermarket, Vinmart utility supermarket, inter-level school system of Vinschool international standards,...
A prestigious investor
Shophouse Vinhomes Ocean Park is invested and built by Vingroup, a reputable unit in the real estate market. Possessing outstanding vision and strong financial potential, Vingroup always strives to bring the most perfect products to customers. By choosing Vinhomes Ocean Park shophouse, residents can be assured of product quality, construction progress, legality as well as perfect utility services.
With outstanding advantages in terms of location, design, planning, shophouse Vinhomes Ocean Park is definitely the ideal choice for a large number of customers and investors.
At Tan Long Land, we are a distributor of real estate projects with many experts with more than 20 years of practical experience in the market and a sales staff of up to 1000 people. With the same desire to bring customers the best quality products with the best products and the best service environment, Tan Long Land has been raised, positioned, and branded in Vietnam. We commit to providing the best consulting service to our customers to help them choose the appropriate shophouse for sale in Vinhomes Ocean Park.