Vinhomes Nguyen Chi Thanh
(Update: 8/17/2015 10:42:17 AM)
Vinhomes Nguyen Chi Thanh
OVERVIEW OF VINHOMES NGUYEN CHI THANH - HANOI
Located in one of the most prime positions of the city, with skylight stretches through floors and green garden spans at 7th floor of the building, the most luxurious apartment Vinhomes Nguyen Chi Thanh - Hanoi Capital was built and designed towards a high-class lifestyle in the middle of bustling modern city center.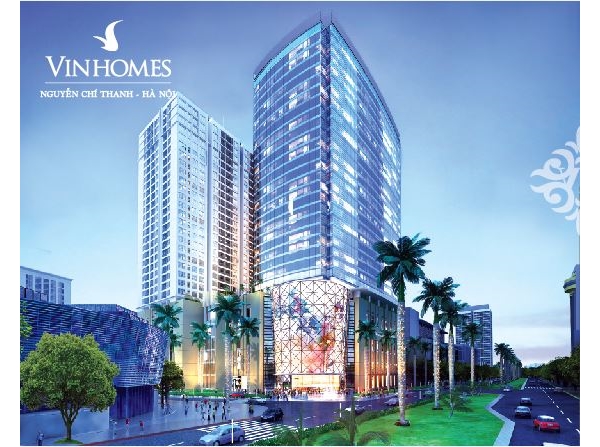 Vinhomes Nguyen Chi Thanh - Hanoi - Project Perspective
Project Vinhomes Nguyen Chi Thanh - Hanoi is built on 13 039 m2 area, including two 30-storey buildings: luxurious Apartment Tower and grade A Office Tower. The apartments stretching from 7th to 30th floor, lying on podium of 6 floors including business - service center, hypermarket in B1 basement and 5 parking basements together with other facilities to meet residents' needs.
Vinhomes Nguyen Chi Thanh - Hanoi includes 378 luxurious apartments with neoclassical romantic inspiration, combined with the minimalist-style exterior architectural features, multi-faceted and wide windows at all bedrooms, ensuring provision of natural light and perfect air convection for the entire apartment. The apartments are designed diversely, from 54m2 to 170m2, from 1 to 4 bedrooms, scientifically arranged to maximize utilization, providing a comfortable and modern living space. Especially, the apartments on 7th floor of the tower will have more perfect space with area of unique green garden.
Investor: Viettronics real estate JSC belonging to Vingroup
Trading and managing agency: Vinhomes real estate trading and managing Company -Vingroup
Project's land area: 13 039 m2
Type of development:
• Apartment Buildings
• Business center
• Grade A office building
Apartment complex's Info:
• Quantity: 378 apartments
• Type of apartment: 1-4 bedrooms
• The area of apartment: ranging from 54m2 to 170m2
• Design: elegant and neoclassical interior style
• Project commencement: 2014
• Expected completion: 2016