Clubs For Residents Of Vinhomes Riverside Villas
When you are a resident in Vinhomes Riverside, you will have the opportunity to join the clubs managed by Vinhomes manager such as:
Vinhomes Golf Club
Located in a prime location in
Hoa Sua Vinhomes Riverside
area, Duong Hoa Phuong, Vinhomes Golf Club possesses full of fresh green landscape and beautiful lake view, and also contributes a lot to creating attraction. For urban areas, by Vinhomes Riverside is the first project in Hanoi to integrate golf courses in the project campus.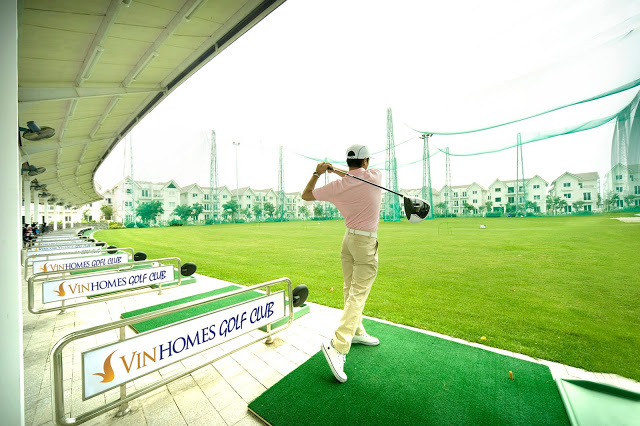 Vinhomes Riverside Golf course system
The training system at Vinhomes Riverside Golf Club Club has a total area of up to 6,526m2, including 17 training lanes and 2 sand bays fully equipped with modern facilities, following strict standards from the golf world. All architectural elements are meticulously designed, such as the golf course terrain will be smooth with smooth green grass covering the yard, this will help the Golfer can easily recognize the ball falling point after each "blow". Vinhomes Golf Club will be an ideal entertainment venue for Vinhomes Riverside residents and nearby visitors.
Vinhomes Golf Club opening schedule:
Open time:
From Monday to Friday: From 15:00 - 22:00
Saturday and Sunday: From 06:00 to 22:00
Training ground fee:
Tennis Club
Vinhomes Riverside owns 6 standard, spacious and airy tennis courts with a prime location in front of Vincom Center Shopping Center, bringing the entertainment and entertainment spaces ideal for residents who love sports in general and those who have a special passion for this subject in particular. In addition, to build exciting and rewarding sports and physical movements, to help improve health and increase opportunities for cultural and sports storage for all residents, the Urban Area Management Board organized and established Vinhomes Riverside Tennis Club.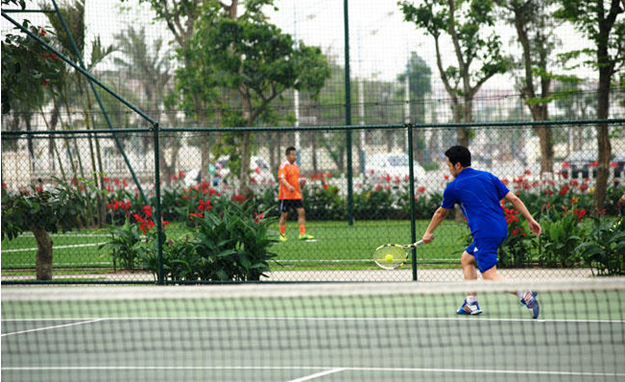 Tennis Clubs in Vinhomes Riverside
In order for players to have the opportunity to get acquainted and practice in the best conditions, Vinhomes Tennis Club has also arranged a team of professional trainers and lecturers, experienced in long-term teaching enthusiasm, helping students with the chapters Well-trained, scientific and effective training.
- Tournaments at Vinhomes Tennis Club:
+ Friendly match: Between classes / courses or extended friendlies after each course.
+ Expanded tennis tournament: Reserved for residents and guests with valuable prizes.
Swimming club for children
With the aim of creating Vinhomes Riverside into a healthy, safe and fully developed living environment, the Management Board has organized free swimming classes for all "Nhoi" residents in the urban area. Equipped with modern outdoor and indoor swimming pools in accordance with international standards, good opportunities for children to get acquainted, exercise and more harmonious with the surrounding life.
Vinhomes Riverside has performed well the mission to bring the best quality of life to all urban residents.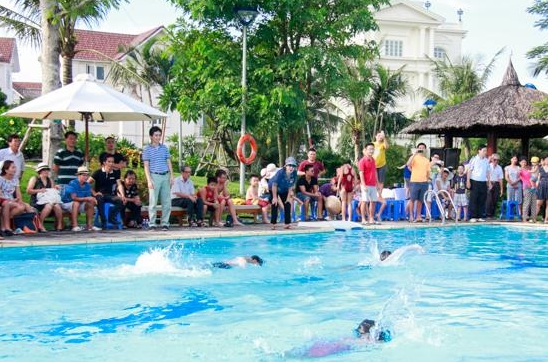 Pool at Vinhomes Riverside