Villas for rent at Vinhomes Riverside - Resort lifestyle
(Update: 9/21/2023 3:28:55 PM)
Villas for rent in Vinhomes Riverside - Vinhomes Riverside is the new star of luxury living at Long Bien. A modern residential development with a lush natural garden landscape
Villas for rent at Vinhomes Riverside - Resort lifestyle
Villas for rent in Vinhomes Riverside - Vinhomes Riverside is the new star of luxury living at Long Bien. A modern residential development with a lush natural garden landscape, luxury resort-style amenities, and a vibrant dining and entertainment center nearby. With striking residences in Vinhomes Riverside, this development delivers a unique union of location and design that elevates its offering for discerning buyers.
Pushing the pinnacle of architectural excellence in some of Hanoi's most popular and iconic locations, Vinhomes Riverside embodies its name as a game-changing developer for luxury apartment living.
Embrace a Resort Lifestyle in These Newly Completed Villas
Renting a villa at Vinhomes Riverside is a fantastic idea for anyone traveling or living in Hanoi. If you've ever been to Venice, you'll be amazed because the villas at Vinhomes Riverside are known as the Venice Street of Hanoi's capital. Vinhomes Riverside is a lifestyle destination, ideally situated between water views and parklands, with an array of retail, dining, and recreational options.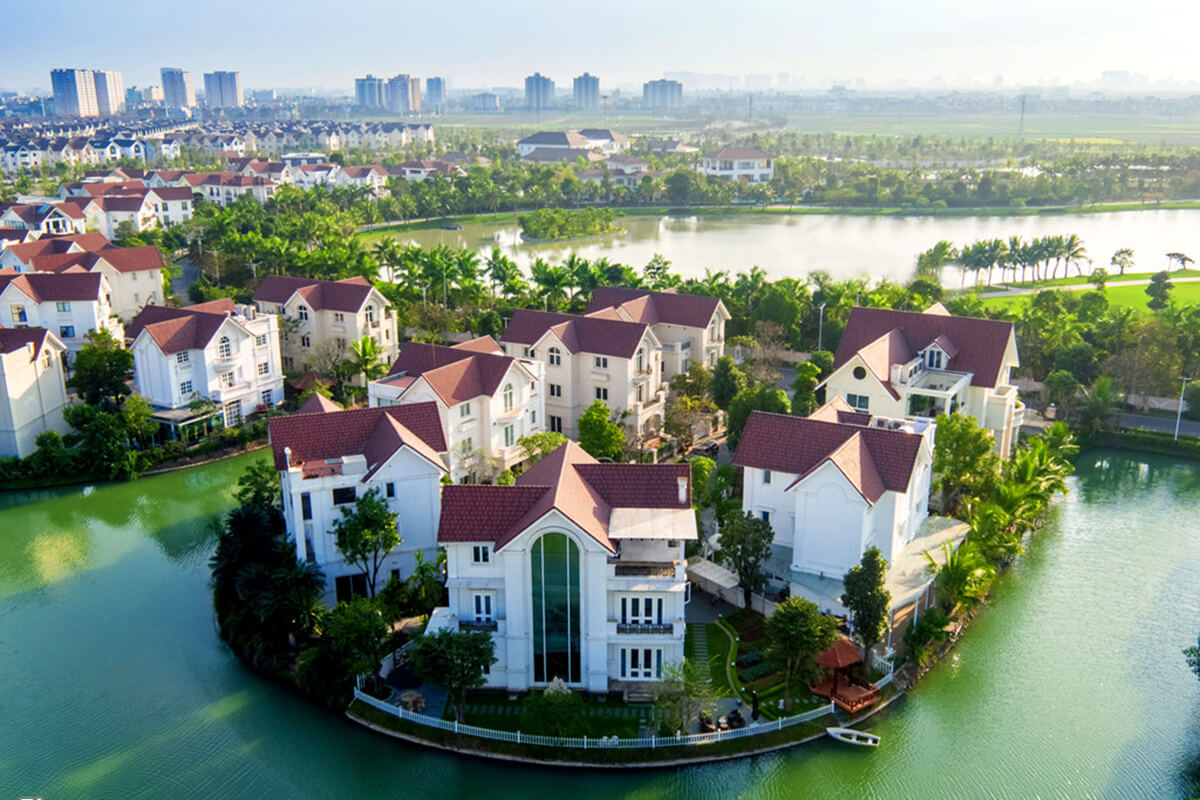 Villas for rent in Vinhomes Riverside - Location
Located in a prime area of the city center, Vinhomes Riverside is positioned within the inner city's CBD district. It's approximately 6km from Hoan Kiem Lake and adjacent to Vinh Tuy Bridge, with Chuong Duong Bridge just a 5km drive away. The masterplan for the Vinhomes Riverside villas covers approximately 183ha, with a low construction density that leaves around 60ha of land dedicated to lakes, parks, and trees.
Vinhomes Riverside boasts a prime location at the very heart of the city center. Nestled within the CBD district of the inner city, it is merely 6km from the serene Hoan Kiem Lake. Situated adjacent to the Vinh Tuy Bridge, Chuong Duong Bridge is only a 5km drive away. The master plan for Vinhomes Riverside encompasses a vast area of approximately 183ha, with low construction density that dedicates around 60ha of land to picturesque lakes, verdant parks, and stately trees.
Renting out villas in Vinhomes Riverside
Indulge in a lifestyle of comfort and elegance as you embrace the high-quality finishes and fixtures that adorn every corner of this exceptional residence. From the moment you step inside, you'll be greeted by a sense of sophistication and refinement. The architecturally designed and fully furnished villas have an open plan with a designer kitchen.
Villas Available for Rent in Vinhomes Riverside, Unfurnished:
Size Range: 90sqm - 200sqm

Monthly Rent: $1,300 - $1,600

Size Range: 200sqm - 350sqm

Monthly Rent: $1,600 - $2,100

Size Range: 400sqm - 700sqm

Monthly Rent: $2,100 - $3,300
Fully Furnished Villas for Rent at Vinhomes Riverside:
Size Range: 90sqm - 200sqm

Monthly Rent: $1,600 - $2,500

Size Range: 200sqm - 350sqm

Monthly Rent: $2,100 - $2,800

Size Range: 400sqm - 700sqm

Monthly Rent: $3,300 - $6,300
Experience the epitome of elegance and sophistication with our meticulously designed villas at Vinhomes Riverside. These residences boast superb materials, exquisite fixtures, and flawless craftsmanship. Each villa offers a luxurious blend of style and comfort.
Features:
Integrated SmartHome appliances

Hand-crafted cornices and skirting

Double-glazed windows

Choice of blended timber or marble flooring

Secure basement parking with surveillance cameras
For comprehensive information on villas available for rent at Vinhomes Riverside, please don't hesitate to reach out to us through our hotline. Our team is ready to provide you with expert advice and guidance.
Indulge in a life of luxury and sophistication with this remarkable abode. Every inch of this architecturally crafted and fully furnished apartment is adorned with top-notch finishes and fixtures that are sure to impress. Step inside and be captivated by the refined elegance that greets you. This three-bedroom, two-bathroom apartment features an open-plan design and a tastefully designed kitchen ideal for hosting gatherings. Prepare to be amazed.
Hotline: 0986 720 720.
Read more:
News