Great lifestyle at Vinhomes Riverside Villas
(Update: 8/22/2023 11:27:26 AM)
Each villa at Vinhomes Riverside has been meticulously crafted to create a seamless blend of glamour and understated luxury. The use of prestige materials, including marble benchtops and oak floorboards,
Great lifestyle at Vinhomes Riverside Villas
Life is great at these stunning new Vinhomes Riverside, which delivers luxury, lifestyle, and proximity to the great onsite amenities.
villa at Vinhomes Riverside - Whether you're an empty-nester, investor, or looking to move to sunny Hanoi's southern from further afield, there's a lot to love about the brand-new Vinhomes Riverside residences.
Situated in the southern gateway of the capital, Vinhomes Riverside presents a stunning design, clever lifestyle-focused inclusions, and an enviable location within walking distance from great onsite amenities.
Vinhomes Riverside residences designed for luxury living
Vinhomes Riverside is a boutique collection of over 1400 villas built by Vingroup developer and designed by Vingroup and some renowned France architectures.
At first glance, it's obvious the villas and townhouses have been constructed to an impeccable standard and informed the properties' aesthetic. The residences come with a bevy of luxury design features, amenities, unparalleled other precincts access, and a location close to everything Hanoi has to offer. Vinhomes' reputation backs them for quality.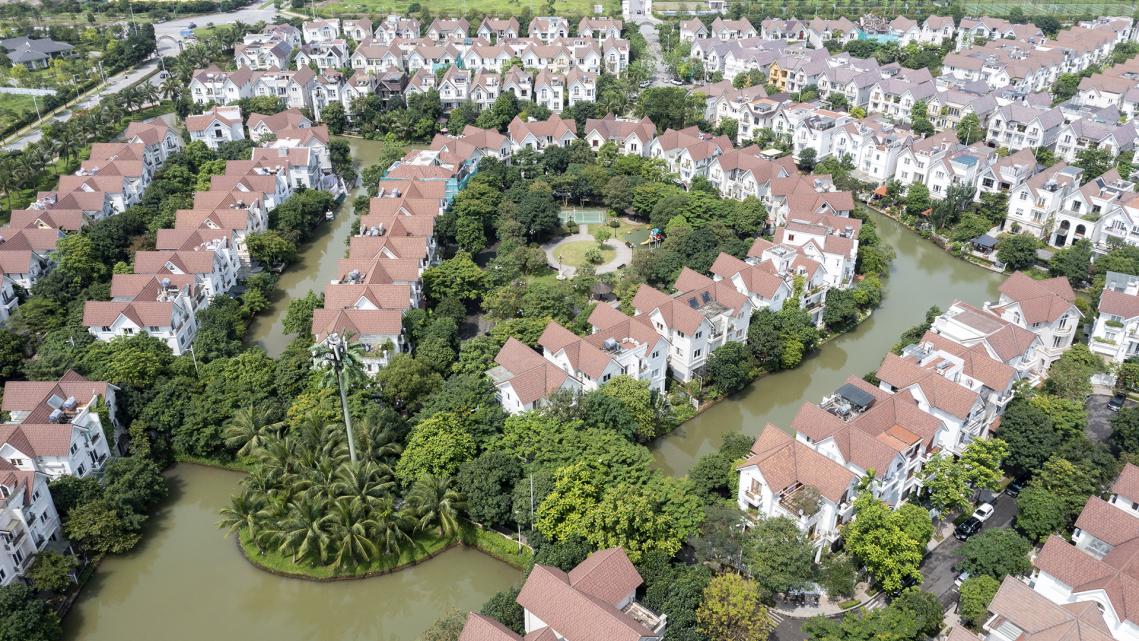 The luxurious vantage point from the villas and townhouses at Vinhomes Riverside provides residents with a sense of serenity that is unmatched in Hanoi. Due to its location in the city's heart, Vinhomes Riverside also offers a peaceful escape from the hustle and bustle of working life. It allows residents to live a self-sufficient lifestyle in one of the most picturesque urban areas in Hanoi.
Residents will not have to compromise on size, with an impressive amount of space for each home ranging from 100 to 300 sqm of internal and external living spaces. It might have up to 5-6 bedrooms, light-filled open-plan living areas, a front and rear courtyard, and a pool, depending on the acreage, types of properties.
Each villa at Vinhomes Riverside has been meticulously crafted to create a seamless blend of glamour and understated luxury. The use of prestige materials, including marble benchtops and oak floorboards, creates a refined atmosphere and offers residents a truly exceptional living experience.
The design of Vinhomes Riverside villas is a testament to elegance and timeless sophistication. With features including fireplaces, garages, wine fridges, and butler's pantries, the villas are created to satisfy the desires of those with the most discerning tastes.
Learn about Vinhomes Riverside's developer, Vinhomes
Vinhomes was launched in 2008 as a property developer, developing, selling, operating, and managing many residential complexes. The reason behind the company's reputation was that the team wanted the highest level of quality control from ideation through completion and handover. The fact that everything is "all-in-one" within your complex means buyers can enjoy peace of mind knowing their home is of an incredibly high caliber. Vinhomes also provide exceptional post-build service and customer care during the warranty period.

With more than ten years of experience, Vinhomes has completed billions of dollars worth of residential developments. It has earned a reputation for delivering high-quality property developments that have captured the imagination of Vietnamese. And Vinhomes Riverside will be no exception; residents can enjoy the resort lifestyle inside the complex. Since releasing to the market, Vinhomes Riverside has been known for excellence in design, construction, and customer care and is deeply committed to building our future elite communities.
Experience the exceptional offerings nestled within Vinhomes Riverside
Discover many premium amenities, including a Pool Deck, a Wellness Hub, and an exquisite Sky Lounge & Dining area. These remarkable features are complemented by a stunningly landscaped 60-square-meter public plaza that seamlessly blends with a vast 45,000-square-meter mixed-use retail precinct. In addition, verdant podium-level gardens adorned with barbeque spots, relaxed seating zones, playful areas, and expansive green spaces create an oasis of tranquility.
Positioned a mere 6km from the historic Hanoi Old Quarter, these premium villas are conveniently connected to the heart of the city by the Long Bien Bridge and an impeccable infrastructure network. Commuting to the Hanoi CBD takes 30 minutes, and efficient rail services provide swift access to various other districts.
Embrace the convenience of proximity to esteemed educational institutions, such as the renowned Vinschools, while being a mere 9-minute journey away from the prestigious VinUni, offering world-class university education.
Elevate your living experience with impressive resident amenities right onsite. Dive into luxury at the Pool Deck, boasting a 30-meter pool. Achieve holistic wellness at the Wellness Hub, complete with a state-of-the-art gym and serene yoga room. Celebrate special moments at the Sky Lounge & Dining space, designed to elevate your gatherings to new heights.
Explore the vibrant onsite retail scene, where a supermarket, charming cafés, enticing restaurants, and various health and lifestyle retail options await. Stroll through the meticulously landscaped podium gardens over 60 square meters, providing a serene escape from the urban hustle.
Discerning buyers searching for an elevated lifestyle in an exceedingly desirable location are urged to take swift action. The allure of Vinhomes Riverside's villas is expected to captivate individuals not only from Hanoi but also from the broader region of Hung Yen and beyond.\
To view one of Vinhomes Riverside's completed villas, contact Tan Long Sales Department to book a private tour or receive in-depth consultations:
Hotline: 0986 720 720
Website: villasvinhomesriverside.com
News